A mellow experience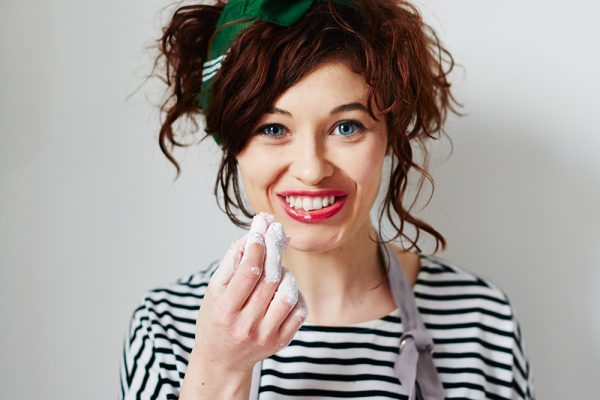 What is the background to the brand?
I moved to Paris at 18 years of age and trained as a patisiere/chocolatier. After four years, I returned to the UK to live in London and began working for a luxury chocolate company. It was then that I realised something was missing in British confectionery.
In Paris I would make perhaps four different types of marshmallow a week. They were used in the famous Gateaux Royal, brought along to dinner parties or served as a petit four, but in the UK they were just pink and white puffs.
I started experimenting after working with different flavour combinations, using fresh fruits, herbs and spices. Some were successful, some were less so. But after a while I had flavours that I felt tasted incredible and a product that tasted unlike anything else.
I managed to get a market stall on Portobello Road, making the marshmallows in the evenings and selling them on a Saturday. At first it was just a way of me testing new flavours and making a bit of extra money, but very quickly the marshmallows started getting a lot of attention from Vogue magazine, Harpers Bazzar and the BBC.
What type of outlets do you sell through and do you plan to expand this? If so, where and in what time frame?
The marshmallows are now stocked by luxury retailers and restaurants throughout the UK, including Selfridges and Harvey Nichols, as well as our online store, which has seen staggering growth. I am working to develop a line for a high end multiple as well as the international market within the next
six months.
Who is your target consumer?
We try and offer flavours that suit various palettes and tastes, but I know that our customers are 'foodies' looking for something different for themselves or as a gift. The young British food scene is burgeoning at the moment and customers want to be able to feel part of a 'scene' without necessarily having to visit a food festival or market. The stores that we're in and the customers we have are those that want to purchase carefully curated products.
What are your best sellers and have these changed over the years? How has the range
developed?
The marshmallow flavours I use are quite bold and not often found in confectionery – I use basil, gin, yuzu and unusual bitters. I rebranded a year ago after the company had been going three years. I wanted the boldness to be reflected in the branding. We worked with an incredible designer who understood the brand and brought out the strong clean lines of the marshmallow blocks and worked that theme throughout.
I was the first gourmet marshmallow brand in the UK and since starting up, a lot of other companies have been created. I wanted to be constantly moving ahead and I wanted the brand to be synonymous with progressiveness. There are flavours that I started out with that are too commonplace now and I have definitely focused on developing the recipes to bring out different notes of flavour as you eat.
How do you promote and market your products?
We do this thoughtful confectionery flavours with unexpected ingredients, combined with beautiful design and an engaging tone. I love working on bespoke orders and being able to work with other creatives. I make conscious decisions about the sort of product I want to have and as a result, I use British-made packaging and artisan paper. I don't want to produce a gimmick or novelty product and the marshmallows are made from fresh fruit so the shelf life is relatively short.
I would like to expand our product line so we can export Marshmallowist to America and Asia – take the ethos behind our soufflé mallows and combine cutting edge design to provide a beautiful product for the worldwide luxury retail market.
How has the industry changed since you've been working in it?
There is such a celebration of skill and quality of ingredients used in sweet treats now. I think confectioners are able to specialise in one product that they make really well now too. You don't have to produce everything for everyone. When I was in Paris, Parisians would cross the city for their favourite treat or for a particular bread shop or food market. It is that infectious desire to create something that was the best it could be, which celebrated flavour and provenance of ingredients that ended with me making marshmallows. I was able to create what I thought was the perfect sweet treat with an adventurous and playful edge. I think that's much more accepted and it's seen to have longevity rather than be a gimmick.
Are there any challenges and opportunities you're seeing at the moment?
I think consumers are definitely looking for healthier sweet options and exciting products with interesting flavours that fit that brief. Our marshmallows are egg free, dairy free and gluten-free.
We are in the process of launching our vegetarian marshmallow. I would also love to work with manufacturers who could assist me in scaling up our production to meet the demand we have in a sustainable way.
What are your plans for the future and how do you see the company progressing?
Through market expansion and our international drive. We're working on some exciting international partnerships at the moment and I'm looking forward to watching that grow.
It's also really important that I give myself time to play, test and experiment with new flavours in the kitchen – sometimes the admin of running a business can take over so it is important to give yourself time for creativity.
What is a typical day for you?
Although years of working in bakeries and kitchens meant I had to be up at the crack of dawn, thankfully, I don't have to do that anymore. I wake up at 7.30am and I'm in the bakery by 9am. Being a 'marshmallowist' sounds quite soft and fluffy, but I seem to spend most of my day carrying out extremely heavy lifting – attaching large mixer bowls to a Hobart, fixing broken strings on my ganache cutter and lifting crates of fruit from my van.
The marshmallow process takes three days from chopping fruit to making the fresh puree, to whipping up the sugar, pouring, setting, cutting, conditioning and then packing.
Our online shop sends alerts to my phone so as soon as someone places an order, it comes straight through to the kitchen. Making sure customers come to our online store and are happy enough to order again is really important – 70 per cent of my business is through our web shop. So I had to very quickly get out of the 'chef' mindset and think about design and creative aspects of the company – how we package and wrap the marshmallows, as well as how customers feel when they get them.
I try to take all the photographs for our social media accounts, including Instagram, so I always have to remind myself to stop what I'm doing and take a picture of it instead. This has been a really successful strategy for us and in September, the Marshmallowist was even featured by Instagram to its 185 million followers. They posted a picture I had taken one afternoon in the bakery. Needless to say, our sales went through the roof and we're still receiving calls from stockists across the world.
Instagram wasn't something that I gave much consideration to until the last two years, but it's become increasingly important – it's also a great way of connecting with food lovers, food producers and chefs. Being in a kitchen all day can be quite isolating, so being part of an online community, even if that's 100 people liking a new flavour you've made, makes it a lot more satisfying.
Evenings are really… what evenings? I'm catching up on emails, invoicing and accounting. At first, it was easy enough to manage but as the business has grown I had to get my head around the spread sheets pretty quickly.