Mochi with a twist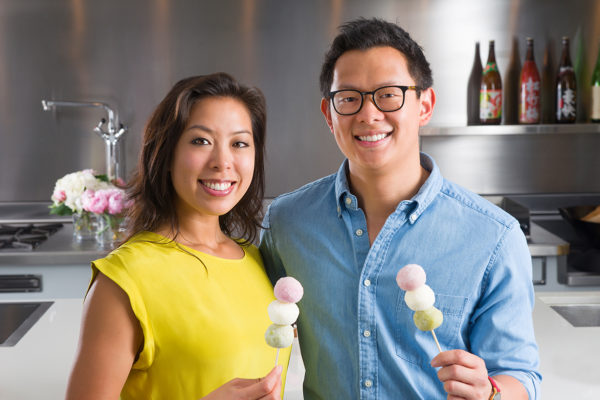 What is the background to the brand?
Our parents had been making mochi for years and we always thought it was an amazing product that more consumers should know about. Popular in Asia, mochi is traditionally produced from pounded and sweetened rice flour filled with a red bean paste, but is an acquired taste in the West. We knew that combing mochi with ice cream would be a great way to introduce the product to a whole new audience.
Making mochi ice cream is technically quite challenging and it took us several years of experimenting to crack the technique. We exhibited at The Restaurant Show in London and were fortunate to get the attention of the head chefs at some famous restaurant groups and we began producing our mochi creations for them.
Food service was great for us because at the time we didn't have enough money to invest in branding. It also gave us a chance to refine our manufacturing technique and we met chefs who were invaluable in giving us tips on where to source the finest ingredients.
After seeing the popularity of mochi, we knew there was a market outside of food service and we had the confidence to invest in creating Little Moons.
Little Moons is a range of frozen desserts that are made by enrobing the finest ice cream with a layer of traditional Japanese mocha, available in six flavours: Toasted Sesame, Coconut, Matcha Green Tea, Mango, Raspberry and Vanilla.
Who is your target consumer?
Little Moons are enjoyed by all consumers, particularly children and families. They can be stored in the freezer for various eating occasions, such as a snack or an alternative dinner party dessert.
Little Moons are also popular with busy professionals as they are convenient and do not require any preparation prior to consumption.
What type of outlets do you sell through?
Besides supplying restaurants, Little Moons is available in Whole Foods Market and Partridges of Sloane Square in London. It has experienced record sales since it launched in summer 2015, becoming Whole Food Market's best-selling new ice cream brand.
Consumers are increasingly demanding innovative and premium products in the chilled and frozen dessert category and we are in discussions with stockists to expand our distribution network.
What are your best sellers?
Coconut is a firm favourite and very on-trend. Our Madagascan Vanilla and Alphonso Mango are also popular.
How do you promote and market your products?
Not many people have tried mochi ice cream so we find sampling a good way to connect with consumers. We are also really active on social media, interacting with consumers via our Facebook, Twitter and Instagram pages. We are also implementing a national campaign for the brand.
 How has the industry changed since you've been working in it?
Consumers are not only choosing ice cream products with innovative flavours, but products with a unique selling point. We believe Little Moons adds the element of texture as well as taste, creating a more experiential sensory offering.
We have also seen increased demand for single serve ice cream products and Little Moons falls within this category, as each individual ice cream mochi is less than 80 calories. Consumers are increasingly selecting premium and artisan products that are made with high quality ingredients. Our gluten-free mochi balls are hand rolled in London according to the traditional Japanese method and contain no artificial flavourings, colours or preservatives.
What are the challenges and opportunities you're facing?
March 2015 data from research company Mintel says "high street foodservice trends remain a key indicator of future retail trends. Trying a cuisine at a restaurant is cited as a reason for trying at home by 42% of those that have eaten emerging international cuisine at home". With Japanese cuisine still very much on-trend and Little Moons on the menu at Yo! Sushi locations across the UK and Bone Daddies in London, we believe consumers will continue to seek out the restaurant experience for the home and this presents a huge opportunity for us.
We will continue to see huge innovation within the category in terms of the flavours available and consumers will continue to choose epicurean and artisan products such as Little Moons that are handmade and provide a completely unique offering with regards to taste, texture and appearance.
As people are becoming squeezed for time, they are also selecting convenient food options that require minimal preparation and to meet this demand, ice cream will continue to be a leading dessert and snack choice. As such, we will also see more single serve ice cream products such as Little Moons available on the market.
What are your plans for the future and how do you see the company progressing?
This year, we are focusing on growing our distribution in the UK and we've also had a lot of interest in international markets such as Scandinavia and the Middle East. We are doing a lot of work behind the scenes to make sure that our quality is not affected as we scale.
  What is a typical day for you?
One of the most and least enjoyable parts of the job is how varied it can be. It sounds cliché, but there really isn't a typical day, especially as you are starting up and need to wear lots of hats. One single day might involve working on new recipes in the morning, reviewing new packaging designs in the afternoon and perhaps looking at building plans to see where we could squeeze in some extra freezer capacity in the evening. As the business grows, we should be able to focus on things we enjoy and are good at, or at least that's the theory