Chile: chocolate consumption soars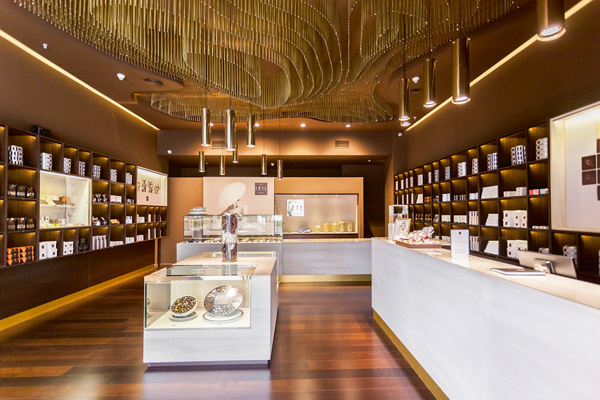 The Chilean chocolate market has grown by almost 11 per cent annually over the last four years, to hit 2.4 kg per head during 2014. The country's consumption overtook Argentina for the first time, according to market analysts Nielsen. But while overall consumption is growing, Chileans are also becoming increasingly sophisticated in their tastes, which has given rise to a growing market for gourmet chocolates, both locally produced and imported.
In 2006, when Jorge McKay and his business partner Giancarlo Fantoni set up La Fête Chocolat, currently Chile's leading manufacturer of fine chocolates, the country's chocolate market was a rather dull affair. For decades the same companies had been manufacturing and marketing the same brands – largely milk chocolate tablets, bars and bonbons – with the same formats and advertising. "It was very boring," he explains. McKay notes that over the last 30 years, Chile's per capita average income has more than tripled to around US$14,500 per annum and that their taste in wine (an industry where he used to work) was increasingly discerning – could the same happen in the chocolate market?
Under the brand name La Fête – chosen to express French sophistication and joie de vivre – the firm began producing and selling its first chocolates through its own stores in eastern Santiago's wealthy La Dehesa neighbourhood.
Over the last decade, sales have grown by 30 per cent annually and the company now operates 36 stores throughout Chile. The decision to sell its chocolates exclusively through its own stores was central to the business plan from the beginning, explains McKay, firstly to avoid the tough sourcing requirements of Chile's top supermarkets but also to retain complete control over customer experience.
Every store, from Antofagasta (a port city on the edge of the Atacama Desert) to Antarctic gateway Punta Arenas, uses the same sleek design, glass-top display cases and dimmed lighting to showcase smartly ordered rows of milk and dark chocolate bonbons. The company also requires high service standards: "Our customers are not customers, they are angels. It is amazing that anybody would spend US$30 on a box of chocolates…So we need to thank them, bless them, hug them," McKay tells Confectionery Production.
Looking ahead, he predicts sales growth will slow to around 10 per cent annually, as the country's high end chocolate market matures. It is eyeing new market segments as a result: last year, La Fête launched its first chocolate ice creams and now has nine varieties available in 15 of its stores. This year, it opened its first café offering drinks and chocolate pastries, all produced at the same factory.
Another company benefitting from Chileans' increasingly sophisticated tastes is the Swiss cocoa giant Barry Callebaut Group. In late 2014 the company opened a plant in Paine, about 45km outside of Chile's capital, Santiago, after signing of a long-term agreement with the Chilean subsidiary of Argentinean confectioners Grupo Arcor (called Industría de Alimentos dos en Uno SA). It is Barry Callebaut's first plant in Spanish-speaking South America, and the investment follows up exports to Chile for the past decade, sparked by food fair marketing of its products.
Now with an initial production capacity of 25,000 tonnes of liquid chocolate and compound per year, the company hopes to better meet the needs of its growing customer base in Chile and throughout Latin America, explained Gerardo Elizondo, Barry Callebaut's general manager for the Andean region.
The firm will soon inaugurate a chocolate academy above the factory where clients and chefs can train in new products and techniques, which could further boost its sales. CEO Juergen Steinemann has said the plant "further confirms our commitment to serving customers throughout Latin America." He added: "As the global popularity of chocolate continues to grow, our focus remains on expanding into emerging markets to better serve our customer being food manufacturers and confectionery companies. Chile is an attractive market for growth, as are neighbouring countries like Argentina, Uruguay, Paraguay and Peru."
The experience of both Barry Callebaut and La Fête mirrors shifting tastes among Chile's chocoholics towards higher quality, gourmet products. According to market researchers Euromonitor International, while the volume of chocolate confectionary consumed in Chile rose by 17 per cent between 2010 and 2015 to 38,200 tonnes, the amount Chileans spent rose 36 per cent to Chilean Pesos – CLP277 billion (around US$402 million). Sales slowed slightly in 2015 in the face of a weaker economy (the World Bank forecasts economic growth at 2.1 per cent) and a late, mild winter, but demand is expected to remain strong, with sales predicted to top $530 million by the end of the decade.
Victoria Araya, vice president of chocolates and confectionery at Nestlé Chile, one of the country's largest manufacturers, agreed that while Chileans are spending more on chocolate than ever before, they are becoming more discerning in their purchases: "The market is growing more in value than in kilogrammes," she says. Gourmet brands such as La Fête still represent just a sliver of the total market, albeit one that is growing rapidly. McKay estimates gourmet chocolate sales of around $45 million last year, up sevenfold since 2007, of which La Fête controls around half.
In the mass market, the largest suppliers are Empresas Carozzi, Nestlé and Arcor, followed by the US producers Mars Inc, and Mondelēz International. Empresas Carozzi dominates the country's most popular brands, which include Ambrosoli, Costa and Vizzio (chocolate-coated almonds). These are followed by Nestlé's Sahne-Nuss, a milk chocolate tablet packed with almonds, and Super 8, a wafer bar in a chocolate flavoured coating. With an average price of just CLP3,500 ($5.07) per kilogramme, around a tenth of La Fête's average retail price, these lines cater to different consumers' needs.
But some of the big brands have now begun to develop more sophisticated products to retain clients looking to trade up. Last year, Empresas Carozzi launched a box of chocolates, called 'La Chocolateria', under its Costa brand, featuring lucuma (a subtropical fruit native to the Andean valley) and other flavoured bonbons.
Supermarket chains have also begun attending to Chileans' sweet tooth by importing European brands such as Lindt & Sprüngli and Milka (owned by Mondelēz) from Switzerland; Germany's Ritter Sport (by Alfred Ritter); and Ferrero Rocher from Italy. As a result, supermarkets often dedicate a whole aisle to domestic and imported chocolate products, including bonbons, tablets and boxed assortments, something one rarely finds elsewhere in Latin America, Elizondo told Confectionery Production.
At both ends of the market, women are a key demographic. McKay estimates that women make around 70 per cent of their sales, either buying for themselves or as gifts for friends and family. Nestlé's Araya argues  that women consumers in Chile "have a more emotional link with this kind of product, which they associate with brief moments of pleasure, relaxation and self-indulgence."
Another major emerging market is young people, who usually buy chocolate 'on the go' when energy levels are flagging. Street vendors sell Super 8s to drivers in Santiago's snarling evening rush hour while Mars' Marathon energy and protein bars can be found it at most newspaper kiosks.
But Chileans' growing taste for chocolate has not pleased everyone. The government blames consumer appetites for sugary, salty and fatty foods on rising levels of obesity and diabetes, which are among the highest in South America. According to a report by the Organisation for Economic Cooperation & Development (OECD) released in 2014, more than one in four adults in Chile are obese.
In 2012, in the face of strong lobbying by the food industry, the National Congress of Chile approved a Law of Nutritional Composition of Food and Advertising, with secondary legislation on its implementation approved last June 2015 – the rules come into effect this July (2016). The law forces companies to label processed foods whose sugar, fat or sodium content exceeds certain content levels. It also restricts the advertising of such foods directed to children under the age of 14 of, including TV programmes, internet, radio and magazines. The law also bans the promotion, marketing, or advertising of these products in schools.
Food producers say the law is unfair as it will require all kinds of foodstuffs to carry the same label even when the implied health risks vary significantly. For example, butter and margarine will both be labelled high in fat, even though some margarines' unsaturated fats may represent a lower risk to heart disease. Meanwhile, sugar will not have to be labelled high in sugar, as 'natural' foods are exempt from the law.
McKay, who labels the law as 'Stalinist', says the legislation could potentially ruin years of careful marketing by forcing the company to include highly visible warnings on the front of his boxes. He is now trying to find a loophole that will exclude his products – such as the fact that they are not marketed to children and are sold in exclusive stores. But what impact the rules will have on chocolate sales will only be known once the new warnings are on the supermarket shelves. "It is difficult to predict how consumers will behave when faced with the food labelling," admits Nestlé's Araya.