Fudge theatre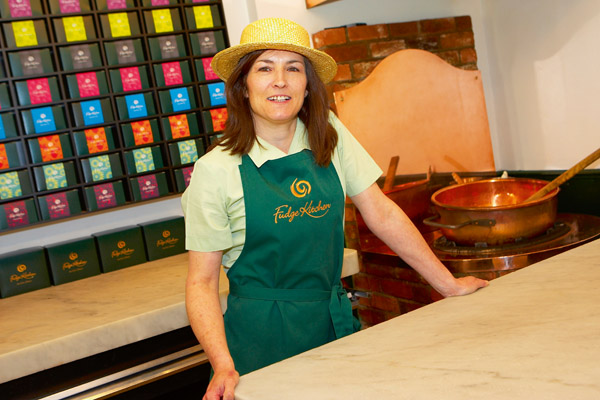 Fudge Kitchen has been trading for more than 30 years. In fact, the company first started making fudge in the UK as Jim Garrahy's Fudge Kitchen in 1983.
Its original, American style slab fudge is still freshly made in and directly sold from the premises of its shops in Bath, Cambridge, Canterbury, Edinburgh, Oxford, Windsor and York. This fresh fudge sold in the Fudge Kitchen shops is all about what company founder Sian Holt describes as 'retail theatre'. "The product is as much about the individuals who make it, the traditional methods and equipment they use… the whole experience," she explains. "See it made, learn about it, buy it, eat it," she adds.
However, while fresh fudge from Fudge Kitchen had clearly found its niche on the UK high street, Holt had noticed a gap in the market for a wholesale high end premium fudge. "What was available tended to be traditional, homely – 'grandma's' fudge," she says.
Holt is engaging, enthusiastic and determined and her knowledge and experience of the market sparked the idea to create a new range for retail while retaining the premium yet quirky nature of the Fudge Kitchen brand. However, catering for a different market was not just a question of repackaging the existing product.
The Fudge Kitchen shops' fresh fudge uses whipping cream without butter, which means that the product has a short shelf life and was therefore unsuitable for supplying to other outlets. "We spent five or six years working on the shelf life issue," says Holt. "We had to decide what the key attributes were that we wanted to retain and came up with smoothness, texture and appearance," she adds. "It was a tall order to 'have it all' and we weren't prepared to compromise."
Reformulation
These issues of product shelf life and reformulation were consequently tackled in conjunction with the University of Greenwich Natural Resources Institute and its Knowledge Transfer Partnership. The resource exists to help food businesses grow and boost their bottom line.
"When we made contact with the NRI, we wanted to extend the shelf life, but we did not know the route we might have to go down," Holt explains. "Our product does not contain butter, it contains only whipping cream, and so it loses moisture very quickly. We needed help. Through product reformulation we went from the initial five to seven days, where the drying out was really at its peak, to just under three weeks," she adds.
"This was still not good enough for a wholesale market, however, and so, clutching our key identified attributes tightly to our chests, we went back to the drawing board and started again", explains Holt.
The answer lay in adding butter to retain moisture and using specific creaming methods to achieve the signature texture, which really differentiates the Fudge Kitchen offer. There were even some serendipitous discoveries on the journey, when the team stumbled upon another popular addition to the range – Drinking Fudge. "In looking for ways to extend the shelf life, we tried vacuum packing our whipping cream fudge," explains Holt. "It exploded and went liquid, sowing the seeds for our hugely popular Drinking Fudge, and later our Liquid Fudge sauce range."
After finally achieving a shelf life of between four and nine months after a further nine months of exhaustive experimentation, an entirely new set of retailer and market opportunities opened up for Fudge Kitchen. This heralded the introduction of a line of gourmet butter fudge products now numbering more than 20, stocked by more than 200 retailers across 20 countries and ranging from said Drinking Fudge to gift box selections to Dipped Sticks to Make at Home kits.
To get to this point with little experience of merchandising, however, Holt drew on her background as a producer and retailer. "The development of the packaging was as important as that of the product inside," she says. "Both had to be of the same quality."
The team began by producing the new range using spare capacity in the retail stores. "We launched our first proper range of gourmet butter fudge with a longer shelf life at the 2011 Speciality & Fine Food Fair," says Holt. However, a loan from the Regional Growth Fund enabled the company to refit much larger premises in Aylesham in February 2013. "
The first year was a huge learning curve," says Holt. "For example, production is affected by humidity, which means we needed air conditioning and space for cooling."
The three industrial cookers, which were installed in the new facility, were produced by Savage Bros and imported from the US. The machines run from 6am to 7pm seven days per week at peak times and one fudge maker can manage all three machines, depending on the complexity of the product being produced; with assistance on batch preparation and pouring.  It's the cutting, decorating and packaging that are both most labour-intensive and complex, yet so critical to the brand values.
"The team has learnt together," says Holt. "When we started, we had no idea what we didn't know," she continues. "We know now, and we have some way to go yet!" she adds.
Evolution
And it doesn't end on the pallet. Once more drawing on her retail foundations, Holt advocates the value of supporting staff selling Fudge Kitchen products. For example, staff at the 'fudge bar' – a unique Fudge Kitchen concept – in London's Harrods have been specially trained on how to sell the products, which are sold in traditional blocks that are cut and weighed for each customer.
Similarly, Lakeland stocked Peanut Brittle and Pecan Turtles from the latest Delectables range this Christmas and 'fudge ambassadors' were deployed to carry out sampling in stores. "It's all about leaving a footprint about who we are," says Holt.  "30 plus years successfully selling indulgence and establishing great relationships with the end consumer across a variety of retailing formats, stands us in perfect stead to advise".
As the company continues to grow and evolve, it has recently introduced a database production system to control stock from purchase order through production to the dispatch of finished goods, incorporating batch queueing and full traceability back to the raw ingredients. This is a significant development, stock having previously been managed manually. The system, which includes a bespoke order database, was in development for a year and feeds orders into the production database.
Other areas that Holt hopes to address are the seasonal nature of demand for the gift-style ranges. "Lakeland, for example, largely stocks our range at Christmas, as do independent department stores," says Holt. "Fifty per cent of our turnover is billed from September to December," she adds. This, of course, means that additional staff is needed between August and December, but that other times of the year can be much quieter.
"Increasing our exports would mean that we could keep a larger team of trained staff who work all year round, rather than having to 'top-up' with casual staff who only work at peak times," she says.
Own label projects help even out the speciality and gift food production peaks, but with upping production during quieter periods firmly in mind, the company is also looking at other markets, such as food service, corporate and hospitality, including supplying the private boxes at Wembley Stadium and a luxury London hotel with one of the new 'Fudge Bite' formats for afternoon tea. Interesting niche contracts are developing from looking further afield – a Dubai theme park plans to establish a 'fudge bar', for example, along the lines of the one Fudge Kitchen operates as a concession in the Birmingham Selfridges.
The next big thing
The Fudge Kitchen brand has become as well known for the rapid development of new products as for its own range.  They have been tasked by several well-known brands to develop bespoke formats and flavours and there have been various partnerships, including working with Danish liquorice brand Lakrids to develop a liquorice flavoured fudge.
In the pipeline are various new product offerings, including Pecan Brittle and Almond Bark additions to the Delectables range – a notable expansion into sugar confectionery for the fudge doyens. Both launching at ISM. Having been invited to taste it in development – a little bit more salt is required, we all agree.
"It's very rare that you see something that's completely new, rather than the redevelopment of an existing product," says Holt. "And Fudge Kitchen are as much about innovation as perfecting classics and adding our own twists. Brittles are of huge interest at the moment. We're looking at caramels and brittles for 2016 and have several people asking us to develop them as own label themes." In order to create a premium product, the company has typically gone back to traditional methods of stretching brittle on marble slabs. "You can't get thinness of texture using a machine," she explains.
Of course 'free from' claims, such as 'gluten/dairy/soya free' are increasingly becoming buzzwords for all food producers. "We are currently working on a dairy free fudge using a variety of milk alternatives after taking enquiries from vegan retailers and societies and so on," says Holt.
There may also be a range of old fashioned sweets to come. However, "Fudge will always be at the core of what we do," Holt concludes.