More than aeration…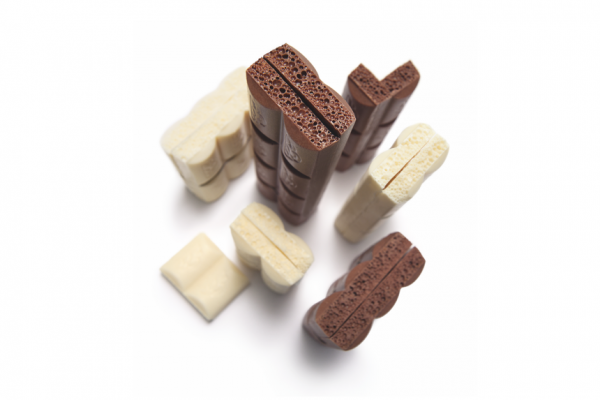 Depositing aerated chocolate can be difficult, especially when considering the importance of maintaining the integrity of the cell structure, density and by no means least of all deposit weight accuracy. Without the right approach, depositing aerated chocolate will be virtually impossible.
Chocolate has no 'foam-able' protein available and so aeration is achieved under pressure, homogenising the liquid phase with a gas, more commonly carbon dioxide, nitrous oxide or nitrogen, at the crystallisation point of the fat. Needless to say absolute control of the mass is essential during the depositing part of the process of creating 'bubbly', 'light' and 'foamy' chocolate bars and tablets.
Wymbs Engineering, a family business founded 40 years ago by Brendan Wymbs, managing director, is located close to Manchester in the North West of England. From a humble beginning in a small fabrication workshop servicing and upgrading 'worn out' machinery in the bakery and confectionery industries, Wymbs has grown to occupy a leading role today as manufacturers of a unique range of pressurised manifold depositing systems.
Wymbs depositing manifolds have no atmospheric hoppers – tempered chocolate, homogenised under pressure with a gas, is fed directly to an inlet connection where pressure and temperature is monitored directly under a fixed system pressure from a continuous aeration system. The manifold is facilitated with a 'flow through' capability and assembled with a range of pistons accurately displacing the mass, volumetrically into the impression of the chocolate mould. Pistons are driven by servo as are an arrangement of specially constructed and individually sealed rotary valves.
Wymbs manifolds are bespoke according to the chocolate mould design and are constructed for small 275mm moulds through the range to larger 1000mm mould sizes.
Keeping it clean
Since it became part of the Haas Group in 2002, the Dutch company Mondomix has brought essential know-how in aerating but also the field of mixing and kneading into the Haas Group. While known as a specialist in aeration, Haas-Mondomix covers handling, batching and weighing ingredients, pre-mixing, mixing and depositing.
Aerating can produce lighter and healthier end products with a better texture, finer taste and more attractive appearance. Furthermore, aeration processes contribute essentially to cutting raw material costs and offer the confectionery manufacturer numerous individual possibilities for product design.
Haas-Mondomix supplies flexible machines and processes which ensure that changing future demands will be met. For example, the same machines can produce chocolate with large visible bubbles or with micro sized bubbles. Aeration processes are also used for the production of compound chocolate products, praline fillings and creams for Swiss rolls, biscuits and wafers.
Chocolate can be processed in various forms, including depositing into molds or directly onto biscuits or a conveyor band. Strict temperature control is crucial for the entire production process from the supply and tempering to aeration. Depositing may be by a conventional depositing system or by special pressurised manifold depositors,
With an experience of more than 30 years, and with thousands of machines producing reliably in over 55 countries, it is possible to offer customers advantages for realizing their product ideas.
consulting and support before, during and after the purchase of turnkey plants
tailored flexible total solutions for the production of chocolates and fat creams
processes and systems for all capacities ranging from lab installations to large-scale industrial production
support by technologists in the in-house labs for developing and optimising products
efficiency as part of the Haas Group with its know-how in wafer plants, biscuit plants and mixing systems and its worldwide network of sister companies and local representations.
Haas-Mondomix is 3-A hygiene certificated, providing a full CIP (cleaning-in-place) system designed for automatic cleaning and disinfecting without major disassembly and reassembly work.
Cleaning can be carried out with automated or manual systems and is a reliable and repeatable process that meets the stringent hygiene regulations demanded by the food industry. Other benefits of a well designed CIP plant include: operator safety (operators are not required to enter tanks and vessels to clean them and cleaning agents do not need to be handled by operators) and minimized downtime between product runs and product changeover.
When choosing CIP, equipment is extended with spray balls in the tank lids, CIP pumps, pneumatically operated valves and CIP recirculation pipe work. Instructions on the control panel guide the operator through the cleaning procedure.
The system cleans itself by using the pre-mixer, buffer tank and high capacity CIP pumps mounted in the by-pass of the product pumps. During the various CIP cycles the agitators of both tanks will run, the mixing head will run at low speed and the product pumps will run intermittently at medium speed, to avoid unnecessary wearing of the pump stator.
Haas-Mondomix's core competence lies in the mixing and kneading of batters, dough and creams and in the aerating and depositing of various masses, such as marshmallows, praline creams, angel kisses, cup cakes, layer cakes, Swiss rolls, mousses and yogurts. Decades of experience, continuous innovation, the application of state-of-the-art production methods and worldwide presence paired with a flexible after sales organisation enable Haas-Mondomix to find ideal solutions together with its customers.