Ten Acre celebrates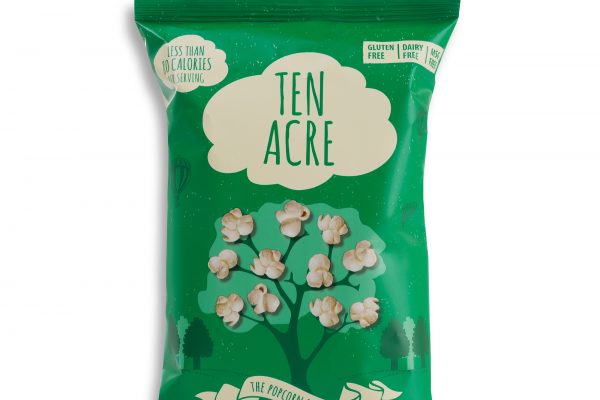 After only the first time of entering, the celebrations have been going on in Ten Acre village this week – and see no sign of abating! Yumsh Snacks, the creator of the brand Ten Acre, bagged its first crisps and popped its first popcorn flavours in 2014. It entered the Great Taste awards for the first time in 2015.
Organised by the Guild of Fine Food, the Great Taste Awards are acknowledged as the benchmark for those producing speciality food and drink across the UK.
And the winners are… the punchy popcorn with personality, found in a bright green bag and soon to be carrying two gold stars: Ambrose Popperley's Wasabi. The judges felt the "kick from the wasabi which goes sweet – cleverly done" and they went on to enjoy one or two more; "melt in the mouth and absolutely moreish!"
Following closely on the heels of this memorable flavour, is a "light and fluffy popcorn;" as thought by the judges – this is the Ten Acre approach to Sweet & Salty popcorn. Look out for the bright pink bag of Aunty Winifred's Sweet & Salty, which will shortly be adorned with a gold star.
Not to be outshone by the handpicked popcorn from the Popperley Orchards of Ten Acre village; their British potato crisps with a cracking crunch, also collected gold stars.
The Day Sweet & Sour Became Friends and When Hickory Got BBQ'd both gathered awards. The Ten Acre approach to BBQ crisps were described as having; "Very good crunch, warming flavour with a well balanced heat". Sweet & Sour were also happily munched by the judges; "A good snap – they certainly deliver on the promise of sweet and sour."
Ten Acre crisps and popcorn are gluten, dairy and MSG free, vegan, halal and kosher. All made in the UK, using British potatoes and handpicked popcorn from the wonderful world of Ten Acre!
Tony Goodman, CEO of Yumsh Snacks, says: "Ten Acre is celebrating, when the village should really be out in the fields harvesting the crops! We are delighted to have come away from our first entry into the Great Taste Awards with a total of five stars for our Ten Acre products. We appreciate how highly this accolade is regarded and it spurs us on to introduce more fabulous new flavours and we hope more Great Taste stars in the future."