Sharing retail line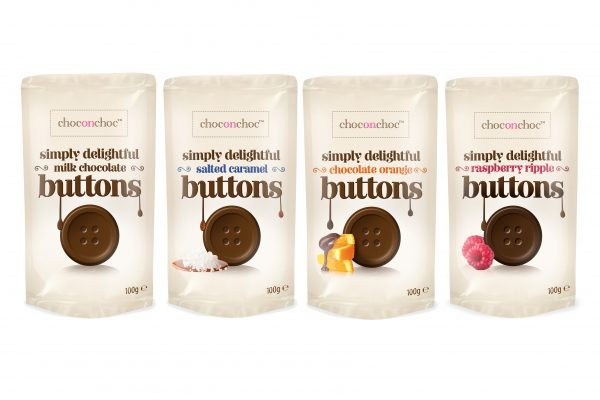 Artisan British chocolate brand, Choc On Choc is launching a new retail offering with a line of Chocolate Buttons premium sharing packs.
Traditionally known for selling luxury gifting products through its own e-commerce platform and upmarket stores, the Bath-based business is now releasing a range of bagged selflines for the multiples and independents.
This diversification is the latest innovation from the 12 year old business, which is undergoing significant expansion. The launch of this new product line is integral to the company's growth strategy and aims to tap into the booming demand for confectionery sharing bags.
The range has already secured distribution with Cotswold Fayre and Foods of Europe, which will be the start of a wider retail rollout.
The buttons feature the brand's signature offering of delicious chocolate in intricate designs. They will bring Choc on Choc's products to more consumers than ever before through the multiples' distribution channels. In addition, the line will also provide a new offering to existing fans of the brand, which will have previously made purchases from the gifting range.
The Chocolate Buttons line is available in four different flavours – Milk Chocolate, Salted Caramel, Chocolate Orange and Raspberry Ripple. Choc on Choc's unique design means that the chocolates look like real-life coat buttons, with small holes edged into the circles and further detail around the outside.
Chon on Choc founder Flo Broughton comments: "The launch of the sharing packs is an exciting new direction for Choc on Choc. They are helping the business diversify and will provide the brand with a product that taps into the booming premium sharing category, offering an exciting proposition for retailers looking to provide consumers with British-produced artisan chocolate.
"Like all of Choc on Choc's products, they feature our signature offering of delicious British chocolate made into beautifully intricate designs. We believe that we have an exciting and unique offering and anticipate huge demand for the product."