Flipz launches salted caramel variant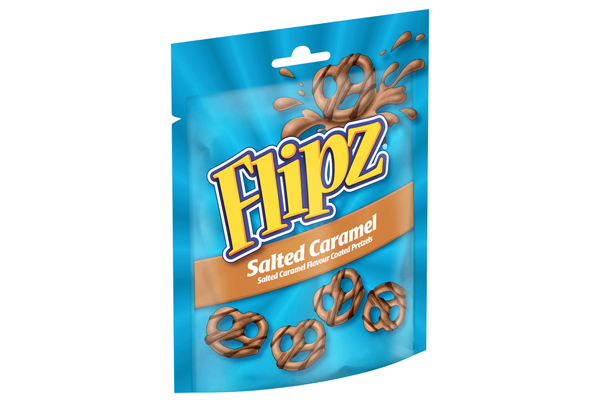 Snacking company pladis, continues to drive growth in sweet and savoury 'swavoury' snacking with the launch of Flipz Salted Caramel.
With its latest launch, pladis has taken the familiar salty and sweet pretzel snack and enrobed it in a salted caramel coating.
This launch will drive further growth for the Flipz brand in the UK, particularly amongst the one in six consumers who are interested in savoury snacks with chocolate. Furthermore, it will appeal to younger consumers and families looking for a tasty and unique sharing snack.
"We were confident British snackers would welcome the 'swavoury' snacking trend when we launched American favourite, Flipz, here last year, and, looking at its sales to-date, they certainly have," says Sarah Horowitz, director of new ventures at pladis UK&I.
"With sales of £12.3m RSV in its first year on shelves, and 2.1million households buying in, consumers have clearly taken to the brand – and now we're bringing them another delicious flavour combination.
"Flipz Salted Caramel offers a moreish, sweet and savoury taste with a delicious, on-trend salted caramel twist. It is an absolute must-stock for retailers looking to unlock the £1.2 billion opportunity that the snacking category presents – and we believe Flipz Salted Caramel will be the sweet treat that families and friends alike will be reaching for during days out, nights in and everything in-between.