Two new bars from Kent Dark Chocolate Company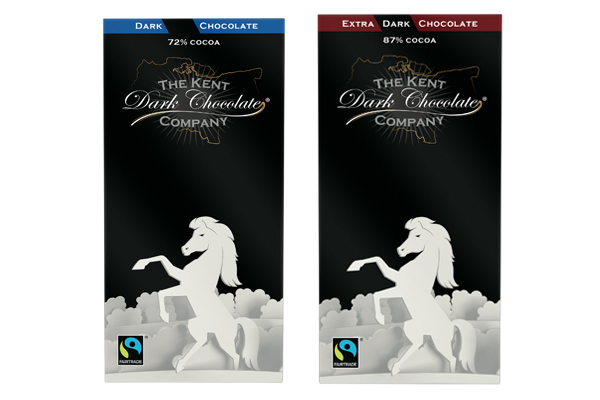 The Kent Dark Chocolate Company is launching two new 100g dark chocolate bars.
Made with cocoa beans from the Dominican Republic, the two premium bars are Soil Association accredited and both have high cocoa contents (72% Dark Chocolate Bar and 87% Extra Dark Chocolate Bar). As well as its organic certification, the chocolate is Fairtrade and suitable for vegans.
The Kent Dark Chocolate Company produces a range of chocolate to the very highest production standards thanks to a wealth of knowledge and expertise on the art of creating fine chocolate.
The two new premium chocolate bars are sleeved in a paper card surround which features the White Horse of Kent, being the old symbol for the Jutish Kingdom of Kent dating from the 6th–8th century. The Kent Dark Chocolate Company is committed to three key local charities, Headway East Kent, Last Chance Animal Rescue and KSAR Kent Search and Rescue which all benefit from the sale of the chocolate bars.
The new bars have an RRP of £3.89 and are available on-line at https://kentdarkchocolate.co.uk or from https://www.amazon.co.uk