Prodigy Snacks launches better for you chocolate bars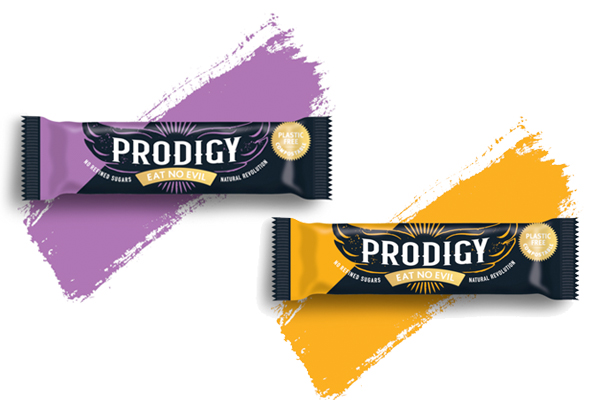 Prodigy Snacks is a new chocolate and biscuit brand launching to market in June 2019.
Using clean, natural ingredients with nutritional benefits, Prodigy Snacks looks to bring the same chocolate pleasure as classic favourites but with no nasties, including no plastic packaging.
Prodigy Snacks will launch with two variants: Chunky Chocolate Bar and Chunky Orange Chocolate with Baobab Bar available online and in stores. These chunky chocolate bars are made with natural, raw and organic ingredients, have less than half the sugar content of current brands and 30% of your daily recommended intake of fibre.
Prodigy's high fibre treats have prebiotic benefits promoting good gut health and are packed with antioxidants from raw cacao butter and cacao nibs. They are also vegan approved and free from dairy, gluten and refined sugar.
Not only are Prodigy's snacks both delicious and healthy, they are also better for the planet with 100% compostable, plastic-free packaging made from plant-based materials.
Sameer Vaswani, founder of Prodigy Snacks, said: "Having worked in the biscuit and confectionery industry for over 16 years, I have seen first hand the perils of heavy industrial food processing, the use of synthetic ingredients, the toxicity of refined sugars and the negative environmental impact of plastic packaging.
"There was a burning gap in the mainstream market for the same indulgent treats but without the damage they cause to our bodies – through ingredients such as artificial sweeteners, colourings and GMOs – and the planet. Unfortunately most of the 600,000+ tonnes of chocolate the UK consumes each year is wrapped in plastic. This is why I became dedicated to developing a product with a plastic-free alternative and clean ingredients and founded Prodigy Snacks."
In August 2019, Prodigy Snacks will be expanding its range with two new treats including Peanut & Caramel Bar and Coconut Chocolate Bar as the brand works to fulfil its mission of bringing healthier – but just as satisfying – chocolate alternatives to the mainstream market.
Reinforcing the company's ethos of being good for consumers, the planet and humanity, Prodigy Snacks proudly donates 5% of all profits to support the following organisations: The Blue Marine Foundation, Akshaya Patra, Friends of the Earth and Hope for Justice.
Prodigy Snacks will be available from prodigysnacks.com, Amazon, Sourced Market, Yumbles, Borough Box and several independent eCommerce stores.