New Oat Bars from Paterson's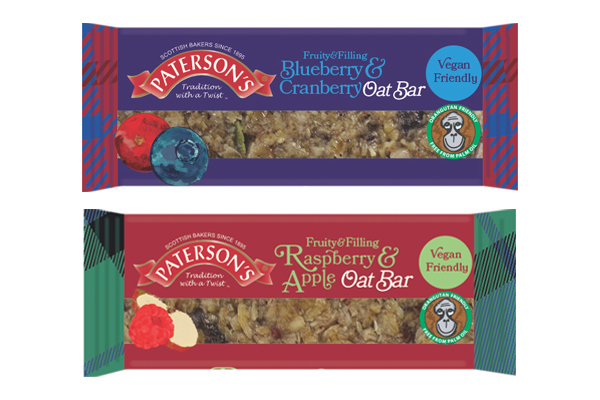 Scottish food brand Paterson's has launched vegan Fruity & Filling Oat Bars.
A twist on a traditional flapjack, Paterson's Oat Bars are vegan friendly and palm oil free, whilst containing only 170 calories per bar. Handmade in Scotland with real fruit pieces, the oat bars are available in two varieties: Raspberry & Apple and Blueberry & Cranberry.
Jonathan Guild, brand manager at Paterson's said: "Here at Paterson's we have a long history of delivering tradition with a twist and our Oat Bars do exactly that – a delicious vegan friendly and palm oil free snack, which are high in fibre and contain less than 2.5% saturated fat.
"In a time pressured and busy world, consumer demand for new individually wrapped snack bars continues to grow, and Paterson's Oat Bars are the ideal solution, delivering quality, provenance and environmental sustainability. We love our new Oat Bars and we can't wait to share these delicious treats with the nation".