Alpen brings back coconut variant and new branding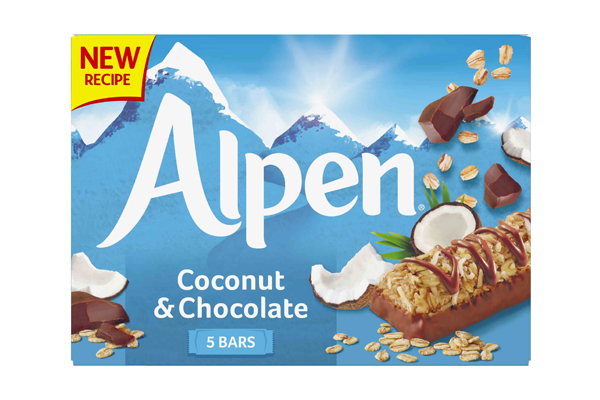 Cereal bar brand, Alpen, has reintroduced its Coconut & Chocolate variant, an unveiled a refreshed branding.
The refreshed design is focussed on ensuring the Alpen range stands out on fixture, with vibrant colours providing clearer flavour differentiation and food cues brought to the fore with ingredients pulled out via eye-catching visuals. New shelf ready packaging will also ensure improved impact in-store.
The new Alpen Light packs will also sport stronger health claims, with high fibre messaging now front of pack, and more prominent exact calorie roundels now displayed (all Alpen Light bars contain less than 70 calories).
New and improved recipes are being rolled out across all standard Alpen bars, which includes a 20% sugar reduction. Re-joining the Alpen range is Coconut & Chocolate, which is back by popular demand. The new high fibre recipe combines Alpen's rolled oats and wheat flakes with coconut pieces and milk chocolate – and each bar contains less than 130 calories.
Helena Blincow, marketing manager, Alpen said: "Our bars are bursting with delicious ingredients and we wanted to draw this out with more impact through our enticing new pack designs. We're confident the new look Alpen Bars range will have a real impact on shelf.
"The newly designed shelf ready packaging is a win-win for both consumers and retailers. It provides a neater, clearer look on fixture, whilst improving navigation and messaging for shoppers with key health claims and flavour call outs on the front lip. We're confident this will help to drive sales for retailers, further adding value to the category.
"Taste is paramount when it comes to repeat purchase, so new and improved recipes have been introduced across our standard bars, as well as bringing back a consumer favourite Alpen Coconut & Chocolate".
The new look Alpen bars will be available in store from May. Alpen Coconut & Chocolate bars have an RRP of £1.99 (5x29g).