Lir Chocolates extends range for Easter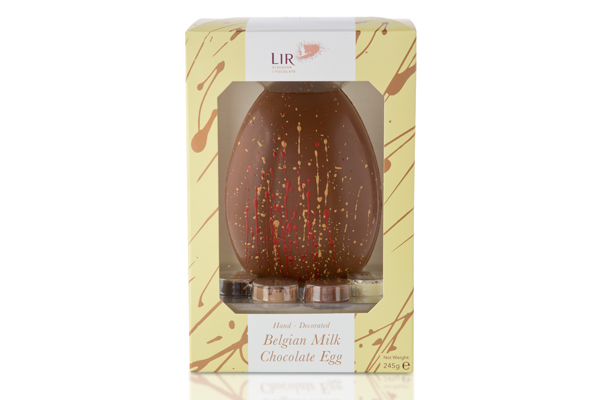 Lir
Irish chocolatier, Lir Chocolates, is launching a limited-edition Discovery Collection chocolate egg, on sale in the UK for the first time.
Each Easter egg box contains one hollow Belgian Milk Chocolate Egg accompanied by a selection of four chocolates from Lir's hugely popular Discovery Collection: Cinnamon and Cream, Irish Sea Salted Caramel, Hazelnut Gianduja and Coffee Crunch. The Discovery Collection was launched to mark the company's 30th birthday last year.
Denis Donohoe, commerical director at Lir Chocolates, said: "Consumers are actively looking for premium chocolate products that deliver true indulgence across taste, flavour and colour. As such, at Lir our NPD process always starts with looking at how we can surprise and delight our customers. Following on from the successful UK launch of our Discovery Collection last year, the Lir Belgian Milk Chocolate Egg will be exclusive to select Tesco stores this Easter. We're hopeful it will be just as well-received as the original Discovery Collection."
Lir was founded in 1987 Connie Doody and Mary White and since then the craft behind truly exceptional hand-finished and hand-decorated chocolates has been central to the business. The Lir team are constantly exploring and experimenting, using some of the finest ingredients such as Thai lemongrass, Persian lime oil and Spanish pistachios. The chocolatiers at Lir are passionate about ethical sourcing of cocoa and works closely with both Cocoa Horizons and Bord Bia's Origin Green to ensure its chocolates don't just taste exceptional but are sourced with the utmost care.