Milkybar Mix Ups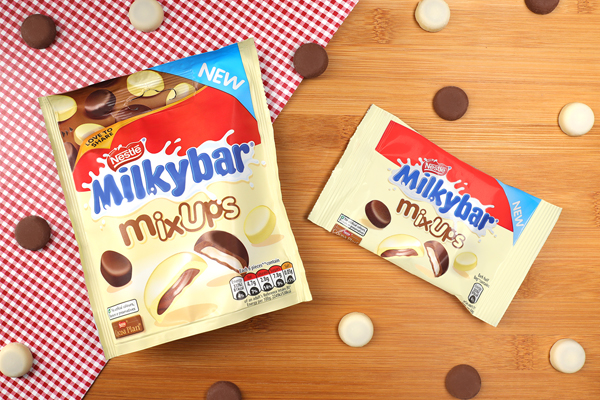 Nestlé introduces Milkybar Mix Ups, which mix white chocolate with milk chocolate for the very first time.
The sweets will begin appearing in shops across the UK and Ireland from this week in both sharing bags and single packs. Each selection contains a mix of classic Milkybar white chocolate buttons with a cocoa filling and milk chocolate buttons with a milky filling.
The new method of creating this delicious combination of chocolatey flavours in a single button has been dreamt up by Nestlé's chocolate experts to meet a very particular demand.
Alberto Pisanello, assistant brand manager for Milkybar said: "We get a lot of requests from Milkybar fans who have been asking us to mix white chocolate with milk chocolate for a long time, but it's not something we've done before with original Milkybar."
"Milkybar is famously white chocolate so it needed to be something special if we were going to mix things up. We think Milkybar Mix Ups are very special, and if they are as popular out there as they have been at Nestlé HQ then we're sure our fans will absolutely love them!"
The individual Milkybar Mix Ups chocolate buttons are made using a very similar technique to the way a Rolo is made and are being produced on the Rolo production line with Rolo's tried and tested milk chocolate recipe.
Kevin Shrimpton, factory manager at Nestlé Fawdon said: "We are really excited to be producing under the Milkybar brand for the first time. We are doing a lot of work at the factory to focus our particular areas of expertise and it's great that we have been able to put our knowledge and experience on Rolo to good use in creating Milkybar Mix Ups."
Milkybar Mix Ups go on sale over the next few weeks in all major retailers as a single 32.5g pack, a 78g pouch, a 95g sharing bag and a larger 196g 'more to share' bag.