Chocolate coated red dates from Abakus Foods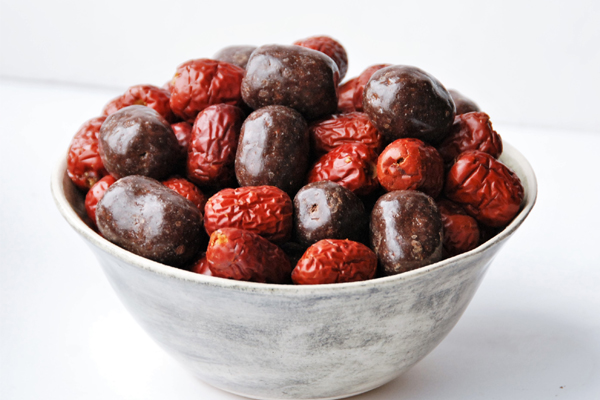 London-based snacks company Abakus Foods has introduced a latest addition to its red date range, Chocolate Coated Red Dates.
The new product is made of the superfruit Red Dates (aka jujube fruits), coated with premium dark chocolate, to make an indulgent and nutritious treat. This product extends the existing Red Dates range which includes Soft Pitted Red Dates, Crunchy Red Dates Crisps, and Nut Stuffed Red Dates.
Combining the natural sweetness of the jujube fruit, with the rich and smooth dark chocolate, the company has utilised the natural contrasting properties of the products to create a culinary experience. Dark chocolate is known for its natural anti-oxidant properties and for being a source of iron. Red Dates are a berry from the Far East, enjoyed for health and well-being for thousands of years. They have a natural caramel flavour and are packed with nutrients. They contain 18 out of 24 essential amino acids which help tissue repair and recovery. Also, they are known for their adaptogenic properties, which can help the body adapt to stress, both mentally and physically. The fresh jujube fruit has 20 x more vitamin C than citrus fruits.
In line with the rest of the range, this product is high in fibre, low in calories, gluten-free, suitable for vegans, non-GMO. The dark chocolate contains a minimum of 64% cocoa solid and is hand-coated in Britain.
Helen Wang, Abakus Foods' founder and director said: "Taking the best of both worlds, we have created a fusion of East and West, and made it into a nutritious snack that excites both the body and the palette. We are really proud to be the first company to have produced the Chocolate Coated Red Dates and how delicious they turned out."
The Chocolate Coated Red Dates have an RRP of £1.49 per pack and are available through www.abakusfoods.com