Vegan Easter range from Plamil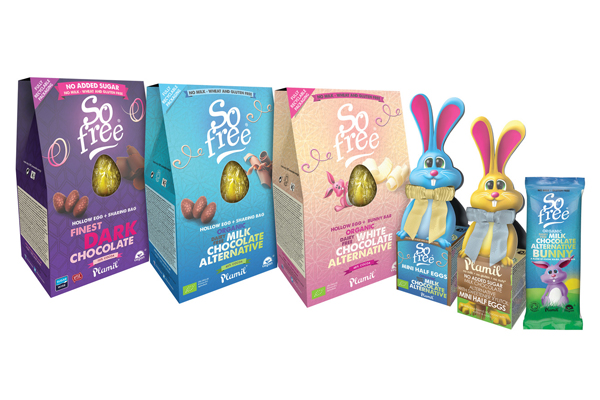 Plamil is launching a new Easter range, featuring three organic vegan Easter eggs and chocolate bunny bars.
As with all of Plamil's products, the new range is made using only the finest ethical ingredients in Plamil's dairy and lactose free factory.  These include no sugar chocolate and organic chocolate with all the dairy taste coming from rice milk.
The range includes:
125g   Organic Finest Dark Hollow Egg with share bag
125g   Organic Milk Choc Hollow Egg with share bag
125g   Organic White Choc Hollow Egg with bunny bar
65g     Plamil No Added Sugar Bow-Tie Bunny
65g     So free Organic Bow-Tie Bunny
25g     Organic So free Bunny bar
Adrian Ling, Plamil managing director said: "It's very exciting to be launching an Easter range when the demand for quality vegan chocolate continues to rise, we strive to produce the very best chocolate both from an ethical approach and taste delivery by making our chocolate in our own factory, which never uses dairy or animal products or wheat, gluten or nuts.
"All our products are made to the highest vegan standards, and carry our registered vegan trademark as other vegan trademarks do not necessarily guarantee products are free from dairy."
The new range is available from Ocado as well as in all leading independent health stores and on-line at http://www.plamilfoods.co.uk