Hawker's Snacks launch vegan popped chips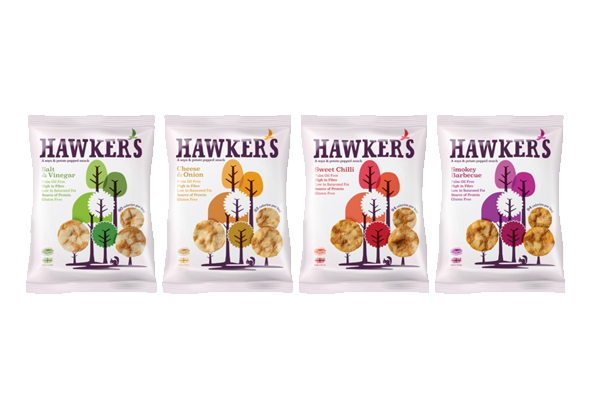 Hawker's Snacks has launched a range of popped chips made from soya and potato certified by the Vegan Society. Core new flavours include Cheese & Onion, Smokey Barbecue, Sweet Chilli and Salt & Vinegar.
All products are plant-based, gluten free, low in saturates and high in fibre, but Hawker's are also committed to improving ethical standards in the snacking sector, and the range has been certified by the Orangutan Alliance for using no palm oil.
Founder Chris Christofi said: ''We wanted to launch a collection of vegan popped chips with just as much flavour as our competitors using animal products, to meet the increasing demand for plant-based snacks. The combination of soya mixed with potato, heated and popped gives us our point of difference, using no palm in the process. Each new variety has been carefully tried and tested to ensure they stack up in the flavour stakes, whether people are following a vegan diet, or just looking to try the latest innovation on the market our new collection offers something for everyone.''
Sold in bags of 23g available as a multi-pack of 24 with an RRP of £6.50 and single packs with an RRP of between 69p-99p depending on the stockist.