"No huff, just puff" – vegan marshmallows from Barú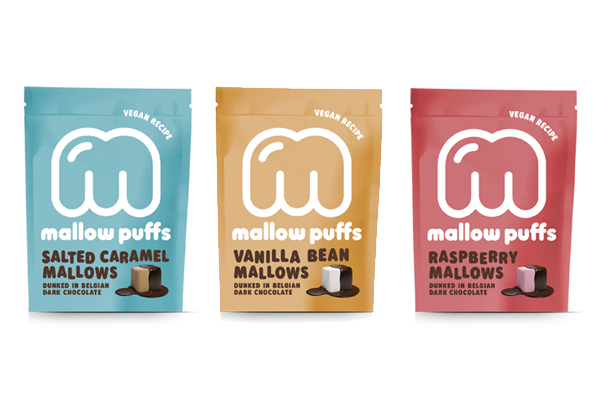 Barú, known for its chocolate coated marshmallows, is set to launch "Mallow Puffs", a new range of vegan snacking marshmallows. Dunked in UTZ certified Belgian dark chocolate, the mallow treats are being launched in three flavours: vanilla bean, raspberry and salted caramel.
All varieties are made with natural ingredients and flavours and are packed in 100g snacking pouches. Each pouch will contain approximately 12 cubes and retail for £2.99.
Barú wanted to produce a marshmallow that was suitable for vegans, but still provided the same bouncy texture and puffiness of a regular mallow.
"Although our marshmallows are natural, gelatin has always been the elephant in the room. You shouldn't have to worry about sustainability and animal wellbeing while enjoying your favourite treat", said Gunther D'hondt, one of the company's founders. It took the company two years to develop a perfectly puffy gelatin-free mallow.
"The gelatin needed to go but the puffiness needed to stay. That turned out to be the biggest challenge, but we finally hit the spot! We then dunked these mallows in Belgian dark chocolate and came up with what we think is the perfect mix of taste and bounce."
The products will be marketed under their own brand name Mallow Puffs, separately from the Barú brand.