Doritos Flame Grilled Steak soon to hit UK shelves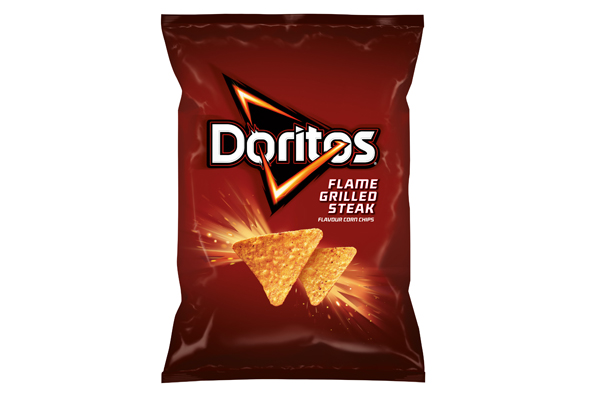 Doritos is adding new Flame Grilled Steak to its UK line up.
Available from mid-January, the new Flame Grilled Steak flavour has been launched to help retailers capitalise on the gap in the tortilla segment, with meat flavours previously being under-represented.
Will Robinson, senior brand manager for Doritos at PepsiCo, said: "We have had excellent results from our consumer testing, with 86% of consumers saying that they would buy the product. Therefore, we are extremely confident that as the first mainstream meat flavour that we have launched on Doritos in the UK, it will drive strong sales for retailers by attracting new shoppers into the tortilla segment."
As well as launching the bold new flavour, Doritos is refreshing its packaging to upgrade the look and feel of its sharing and single serve packs, adding a 'burst of flavour' design to the front of pack. At the same time, Doritos will launch bigger 230g packs of its 'lighter' flavours including Hint of lime, Lightly Salted and Cool Original, with research indicating that these flavours tend to be consumed during larger social occasions with more than four people alongside Doritos dips.
Doritos Flame Grilled Steak launch will be supported with significant TV, digital and shopper marketing activity from March.