Montezuma's Easter 2019 range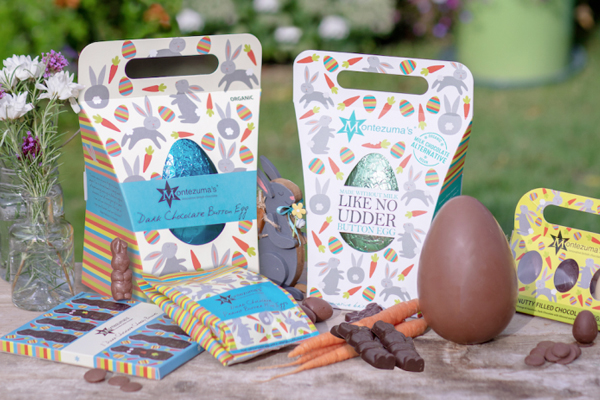 Montezuma's has revealed its Easter 2019 range of eggs and chocolate gifts.
This year the brand has introduced the Like No Udder Button Egg – an organic milk chocolate alternative for vegans or those avoiding dairy – and Bertie and Betsy Bunnies – two giant hollow chocolate bunnies, with Bertie in white chocolate and Betsy in milk chocolate.
Also in the collection is the sugar-free Absolute Black 100% Cocoa Button Egg; Truffle Egg – a thick-shelled chocolate egg with seasonal, limited edition truffles available in Dark Chocolate with Cherry Bakewell and Passion Fruit & Coconut or Milk Chocolate with Lemon & Cherry and Creme Brûlée; and Organic Chocolate Button Eggs available in smooth milk or dark chocolate, filled with organic chocolate buttons.
Nutty Eggs, Organic Cheeky Chocolate Bunnies, Organic Eco Eggs and Peanut Butter Mini Eggs complete the range.
Montezuma's co-founder Helen Pattinson said: "Easter is always such a lovely celebration especially for those of us in the chocolate world. We are very pleased with this year's range which offers so many delicious and fun options and suits all of our customers – whether they are choosing a milk, white or dark treat or something more suited to a lifestyle choice or special diet. Our new giant bunnies look and taste amazing and I'm sure will be enjoyed by many of our customers – young and old!"