Plamil launches dairy-free, no added sugar 'milky' chocolate bar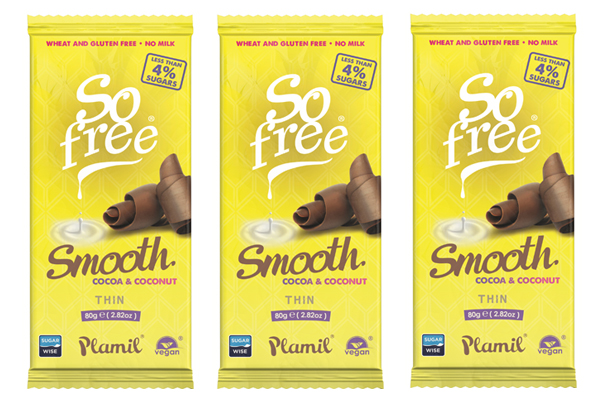 Plamil Foods are expanding their So free range with a new smooth 'milky' chocolate bar that contains only naturally occurring sugars, giving the taste of milk chocolate without dairy and only 4% sugars.
Adrian Ling, managing director of Plamil Foods said: "We are so excited at having yet another first to market with this non-dairy, no added sugar milky alternative where we can categorically state only 3.9g of sugars per 100g, which is far lower than other no added sugar milk chocolate bars in the market today. We conducted many trials using our UTZ sustainably sourced cocoa and coconut flour to achieve a delicious smooth 'milky' taste and texture. This sits nicely alongside our other no added sugar So free bars which are dark chocolate based."
The 80g bar will be launched at ISM, the world's largest trade fair for snacks and sweets in Cologne in January 2019 and will be available for listings and orders from the start of February 2019.
All of Plamil's So free bars are made using certified sustainably sourced cocoa, the factory is powered by 100% renewable energy and all products are dairy free, gluten free and vegan.
An innovator in the free from, no added sugar market, Folkestone, UK-based Plamil Foods have been vegan pioneers since the 1950's.