Snickers brings back 'Hungerithm' to combat the nation's 'hanger'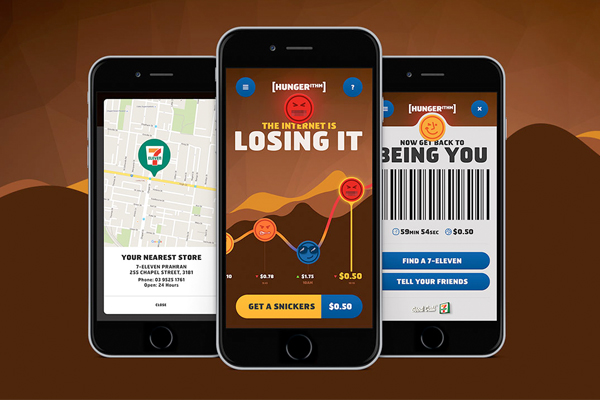 For the second consecutive year, 7-Eleven Inc. and Snickers are bringing back the 'Hungerithm' holiday pricing promotion.
Using their so-called hunger algorithm, the 'Hungerithm' tool detects the hanger (hunger + anger = hanger) level of the internet until Dec. 31. When consumers drop hints of hunger online, the coupon discount of SNICKERS® increases at participating U.S. 7-Eleven® stores in real time. .
"The holidays can be a stressful time for everyone, and the internet reflects the mood of the season," said Josh Olken, brand director for Snickers. "'Hungerithm' offers a fun way to navigate this time of year with Snickers, offering that moment of satisfaction when you need it most."
Consumers can monitor the mood of the Internet, as well as lock-in the price of a Snickers bar that can be redeemed in the form of a coupon at www.Hungerithm.com.
Originally piloted in Australia 7-Eleven, "Hungerithm" was developed by Clemenger BBDO Melbourne under the "You're Not You When You're Hungry" campaign. The algorithm checks social media posts in real time against a list of 3,000-plus commonly used words and phrases to determine sentiment and capture a snapshot of how people are feeling, as well as slang and sarcasm. As 'hanger' goes up, the coupon value goes up, too, according to the companies.
"Many 7-Eleven customers stop by to treat themselves during a busy day — whether it's after school, taking a break from work or, at this time of year, holiday shopping and activities," said 7-Eleven confectionary senior manager Andrew Lee. "Snickers are a satisfactory treat at any price, but customers should definitely take advantage of 'Hungerithm's' sweet discount on their favorite chocolate bar."