Biggest range of advent calendars from Nestlé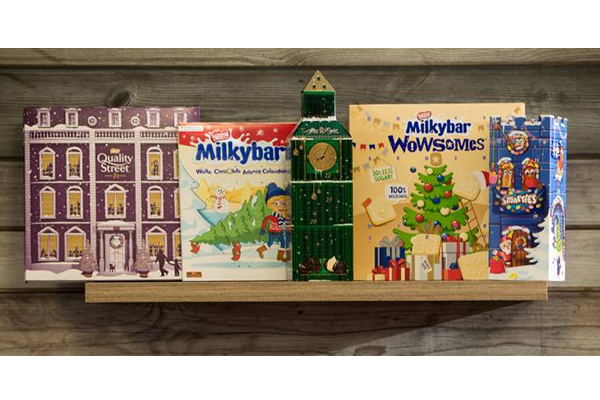 Nestlé is introducing a range of five different advent calendars to the market this year under some of its most famous brands.
On offer are calendars by Smarties, Milkybar, Milkybar Wowsomes, After Eight and Quality Street brands.
Jon Smith, senior brand manager for Christmas confectionery said: "Everybody's got a favourite sweet and we've made sure that there's a great range of advent calendars available this year under some of our biggest brands.
"Advent calendars are a key part of the season and we think we've got a perfect gift for anybody looking to get into the Christmas spirit from 1st December."
Milkybar has two calendars within the range. The traditional Milkybar calendar has pieces of nrmal Milkybar chocolate, while the Milkybar Wowsomes calendar is filled with a mix of milk and white chocolate and the pieces boast creamy-tasting centres and crispy oat cereals. Wowsomes was a new brand for 2018 that became the first chocolate bar in the world to use Nestlé's new technology to reduce the sugar by 30%.
The Smarties calendar is a 3D design based on a snowy castle. Behind each door you will find a traditional chocolate Smarties treat or a pack of mini-Smarties.
Nestlé's After Eight calendar for 2018 showcases the classic, British after-dinner mint thins. The 3D advent calendar is shaped as a clock tower, and features a selection of seven different white and dark mint chocolates.
Nestlé's Quality Street brand, already a Christmas staple, is offering a brand new advent calendar this year. Each individually wrapped sweet has been placed in a completely random order, meaning no two calendars are the same. Its impactful and traditional design further enhances its gift appeal.