Nestlé pulls out the stops for its festive confectionery series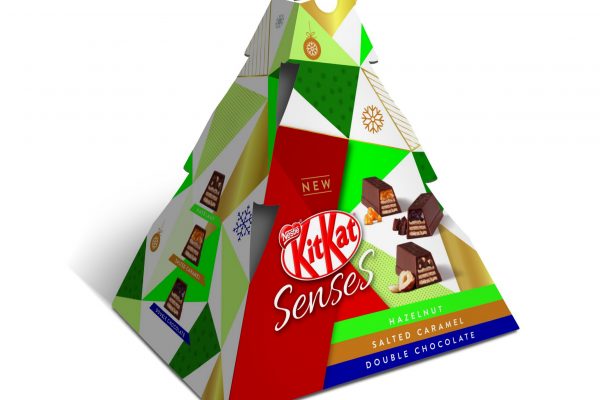 Nestlé is set to deliver a festive feast of new designs and enhanced product ranges for its Christmas confectionery portfolio, which will feature some special releases from well established brands including KitKat, Milkybar, Smarties and Quality Street.
Among its key releases is the company's popular Milkybar polar bear will be joined by three new character designs – a snowman, a seal and a snowy owl. In addition, the brand's milk chocolate Smarties penguin, complete with mini Smarties inside, will be joined by Rudolph, a robin and Santa, all priced at 65p.
Each Milkybar Winter Friends outer will contain all four festive designs, as will each Smarties Winter Friends outer,  designed to capture consumers attention, with designs of outers reduced in width by 12% to reduced efficiency on shelves. According to the company, the early winter season is particularly important for seasonal impulse, as sales at this time are incremental to core confectionery, with festive confectionery sales within the category for 2017 having produced sales  £24.6 million more value sales than in 2016.
Quality Street range
For its Quality Street range, Twistwrap remains a key Christmas confectionery category for retailers, generating over £220 million and accounting for 28% of all sales. It reportedly attracts over 50% of shoppers during the seasonal period, with 52% of households buying into the category (over 14 million households). In 2017 Twistwrap grew more than it has done for the previous five years with value and volume sales up 6%.
Confectionery tubs have also proved strong for sales at Christmas. In 2017 sales of the Quality Street 720g tub (RRP £7.74) grew by 11%. This year it has been revamped with an improved assortment and now features even more chocolatey sweets and fewer toffees and cremes. Furthermore, the brand is  launching a new premium Advent Calendar (RRP £5.00). Each calendar contains two of every Quality Street sweet. Its premium design enhances its gift appeal and ensures it stands out on shelf. The advent category has grown by 45% over the past five years, with premium advent sales.
In addition, the Quality Street 1.2KG Tin (RRP £8.99) will launch its fourth edition of beautiful and collectable festive designs. Last Christmas, sales of the tin grew 10% as it drove category value and brought in younger consumers to the brand. There will also be a high profile media campaign, following last year's results with TV advertising reaching 17 million people and social media channels connecting with 16 million.
Boxed chocolates
As the company revealed, boxed chocolates is the biggest segment at Christmas, worth £374 million and covering three main consumer needs: sharing, gifting and after dinner. The category continues to increase in value in the long and short-term.
KitKat Senses, Nestlé Confectionery's latest release, will be launching two new seasonal packs, and with an eye-catching Christmas tree shaped design, the first new pack makes an ideal festive table centrepiece. It contains the three KitKat Senses flavours, with 24 chocolates in total (RRP £4.99). The second pack is the perfect stocking filler or tree decoration; it contains five chocolates also with a mix of all three flavours (RRP £1.49).
The company said that Quality Street Matchmakers had been a particular favourite with consumers at Christmas. The brand is benefitting from a strong six-year growth spell, and in 2017 achieved its highest ever Christmas sales, up 11%.
Meanwhile, In 2017, Dairy Box was the fastest growing inlaid boxed chocolates brand, up 17%, as shoppers enjoyed the brand's revamped design and seven new chocolates that were added to the mix. While Black Magic was continued to be the leader in dark inlaid chocolate. This festive season, the brands will add two new packs to complement their range of gift boxes: Dairy Box Temptations and Black Magic Temptations. Both packs contain a selection of twist-wrapped sweets and retail at £1. The Dairy Box Temptations will include milk chocolates in the following combinations – orange sensation, nutty truffle and dreamy fudge, while Black Magic Temptations contains the dark chocolates: Midnight Truffle, Orange Sensation, Dreamy Fudge and Raspberry Heaven.
After dinner
The key packs for convenience retailers for the company's After Eight range are its 300g carton and mint straws variety. This Christmas the brand will unveil a new limited-edition design for the After Eight Mint Tin (RRP £6.00). This year, it uses gold to highlight the premium nature of the pack, as well as ensuring the brand stands out in the sea of green typically seen on the After Dinner Mint fixture. The tin also features a festive illustration on pack.
Another major seasonal favourite is the giant tub segment of the market – which includes family favourites including Smarties, Milkybar, and Rowntree's Fruit Pastilles,which have been  redesigned for the festive season. Brand new to the market for 2018 is the Orange Smarties giant tube in response to consumer demand. All giant tubes RRP £1.38.
Within the novelties segment of the market, which is now reportedly worth £71 million, the company is also releasing 100g Milkybar and Smarties hollow chocolate figures (retailing at £2.55, and a new polar bear figure. Finally, the advent calendar category has grown by 45% over the past five years, with premium advent sales almost trebling during that period. Completing the 2018 Nestlé Confectionery Christmas range, and aiming to tap into this growth, is a Smarties 3D Advent Calendar pack (RRP £10.00), containing four different Smarties products.