Smarties go Scaries for Halloween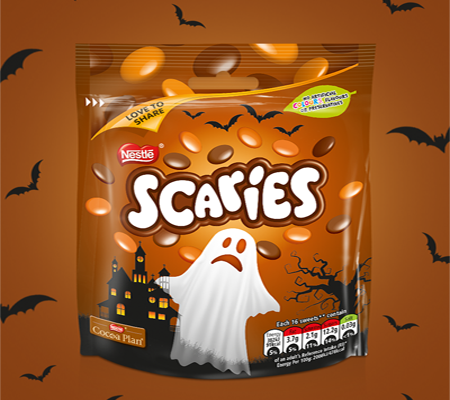 Nestlé UK is launching Scaries, a 'spooky' edition of Smarties, which will be hitting the shelves next week.
This Halloween themed treat consists of a mix of brown and orange coloured Smarties with the brand logo updated to Scaries alongside a ghostly Halloween design.
Scaries will be available in a sharing bag format to share with family and friends.
Stephanie Scales, brand manager for Smarties, Nestlé UK, says, "With Halloween sitting firmly at the top of the social calendar we are really excited to launch Scaries to get Smarties lovers in the spooky spirit and help add some hocus pocus to their parties.
"This is the first time we are offering Halloween themed Smarties and we are sure our fans will love this new ghostly version of their favourite sweets.
"So don't delay and make sure you get your hands on them early to avoid disappointment as these Halloween treats are expected to sell out fast."
Scaries will be available from 6 September in Asda stores across the country and in selected Tesco stores from 3 October.
The introduction of these limited edition Smarties follows the popular Unicorn Smarties and orange flavoured Smarties in a variety of special formats beginning with giant tubes last Christmas and now available in sharing bags.