Toblerone announces chocolate expansion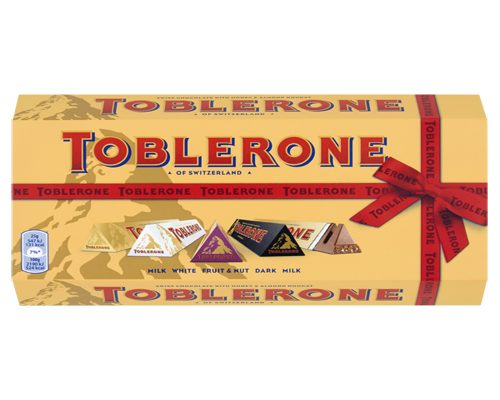 As Toblerone celebrates its 110th anniversary, the $415 million (€359m) global brand has boosted its range, giving fans more choice and different ways to enjoy the Swiss chocolate they love.
The range expansion will 'peak' the interest of followers of the iconic triangular chocolate, offering more variety for every occasion, while tapping into trends for personalisation, premium gifting and portionable treats.
Made in Bern, Switzerland, using quality ingredients and featuring the iconic Toblerone triangular peaks, the new products follow the success of last year's coconut flavour launch, and are all available to order now.
The expansion includes a selection of new options for fans of the milk chocolate variety, as Toblerone launches in both a 200g milk chocolate block and a large 750g block, perfect for gifting.
Furthermore, this festive season a brand new Christmas sleeve featuring a gift tag which can be personalised with the recipient's name will be available for the 360g milk format. This sleeve follows the success of Father's Day and Easter packs which were launched earlier in 2018.
A further gifting pack featuring five 100g bars in a selection of milk, dark, fruit and nut and white flavours has also been added to the Toblerone lineup.
The range expansion arrives as AYR gifting is growing by 2.7%, and gift blocks specifically are growing at 4% ahead of the gifting segment. Meanwhile, the Toblerone brand is growing +19% YTD, making it the second fastest growing brand this year. With this combination of brand heritage, loyalty, momentum and innovation, the growth of the Toblerone family has been designed to perfectly align with consumer demand.
88% of consumers have tried Toblerone, and when looking for a gift, 94% of those people are sure that the recipient will love the product, thanks in part to the range of variants available, including milk, white, dark, fruit and nut and coconut. What's more, the product scores number one on taste has 95% brand awareness amongst consumers.
The launch will be supported by a significant investment into in store activation at Christmas as part of the Discover the Tastes of Toblerone campaign.
Louise Croft, Toblerone brand manager at Mondelez International, comments, "This is the start of an exciting journey for the brand, which will see the Toblerone family expand in 2018 to include a number of exciting new flavours and products for every occasion.
"We're extremely proud of our Swiss heritage and this is reflected in our chocolate. It's been 110 years since the first Toblerone bar was produced at our factory in Bern, Switzerland, and we saw this as the perfect milestone to take a look at our Toblerone family to make sure we're still delighting fans in the same way as we were in 1908.
"We want everyone to enjoy the unique Swiss chocolate recipe, quality ingredients and iconic triangular peaks that Toblerone is famous for and are always reviewing our range to make sure we provide great quality Swiss chocolate in formats we know our fans love."
Toblerone milk chocolate block
Weight: 200g
RRP*: £3.09
Case size: 10
Toblerone milk chocolate block
Weight: 750g
RRP*: £9.99
Case size: 5
Toblerone milk chocolate block with festive sleeve
Weight: 360g
RRP*: £5.49
Case size: 10
Toblerone 5 x gifting variant pack
Weight: 5 x 100g bars
RRP*: £7.49
Case size: 6
*Prices are recommended only. Retailers are free to set their own prices