New energy chewing gums debut in the UK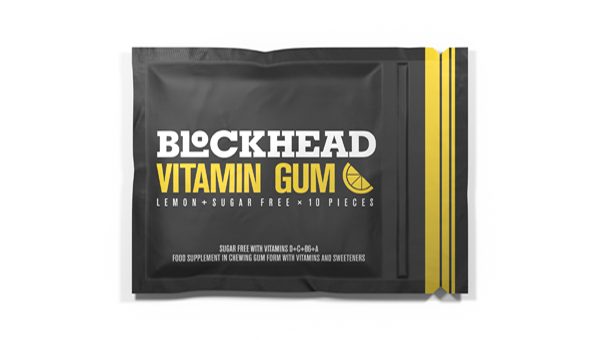 Blockhead – the energy chewing gum brand– has launched two new chewing gum ranges in the UK: Blockhead Energy Gum and Blockhead Vitamin Gum.
Now available in almost 2,000 retailer outlets nationwide, including Morrisons' entire supermarket store portfolio, WHSmith, Ocado, Amazon and Holland & Barrett, with further tie-ups soon to be announced, Blockhead's chewing gum products are aimed at adults in need of an immediate, healthy and convenient energy or vitamin boost.
Borne from the recognition that other energy products on the market don't activate fast enough when it comes to boosting performance, Blockhead has staked its claim, creating a new category that sits squarely between the booming energy drinks market, and the declining chewing gum sector: functional confectionery.
Blockhead Energy Gum's main active ingredient is caffeine – for its proven benefits in both sports and day-to-day life – with B vitamins also vital to the formula to help metabolise energy and Panax Ginseng to enhance physical and mental well-being. Blockhead Vitamin Gum has been developed with Vitamin D, to create a chewing gum that provides consumers' daily dose of vitamins D, C, B and A, which is important in the UK, where one in five adults are vitamin D deficient.
The production process utilises cold-pressed technology, which means that the active ingredients are released from the chewing gum-base itself, as opposed to adding a cake-like layer which is commonplace in other chewing gum brands. Removing all heat from the production process ensures that the active ingredients don't lose any potency.
Danny Lowe, founder & director at Blockhead, says, "We only launch new products if they're genuinely innovative, that's what Blockhead is all about – providing quality products that the public and retailers can get excited about.
"We believe that what we've created is truly unique – combining the best of science and technology to create a gum with added performance benefits, whether you're an athlete looking for that energy boost or a student taking an exam that's looking for an immediate pick-me-up."
Blockhead Energy and Vitamin Gum are available in ten-piece (£1.99 RRP) and five-piece (£1.20 RRP) packets depending on the retailer.