Maltesers launches new Buttons and Truffles in the UK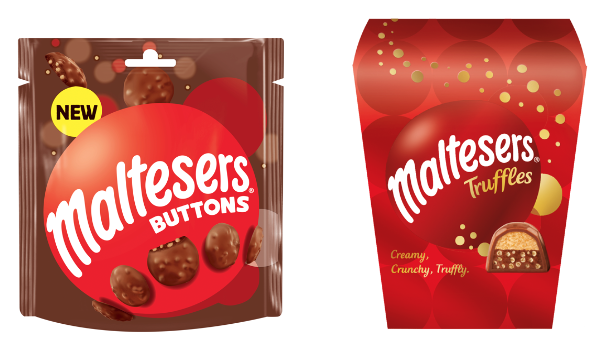 The UK's third most popular chocolate brand Maltesers has confirmed the launch of two new products this month: Maltesers Buttons and Maltesers Truffles.
Maltesers Buttons combine the chocolate and malt of regular Maltesers while retaining a flatter button format. According to Mars Wrigley, the buttons will have a higher ratio of chocolate to malt than original Maltesers.
The new Maltesers Truffles are being marketed as an indulgent treat ideal for gift-giving. They are made with the same crunchy malt as traditional Maltesers but possess the creamy consistency of a truffle.
Both formats are being supported by a £2.5 million marketing campaign.
Rebecca Shepheard-Walwyn, brand director for Maltesers at Mars Wrigley, says, "We are extremely excited to be launching these new brand extensions to express two different elements of Maltesers, one of the UK's biggest heritage brands.
"Maltesers Buttons will reintroduce the brand to younger consumers while Maltesers Truffles will grow the category through being perfect for those special gifting occasions."
Maltesers Buttons are available across four packaging formats: 32g, 68g, 93g and 159g, RRPs range from £0.66 to £3.29.
Maltesers Truffles are available as a 54g gift box at £1.99, as well as a 200g medium gift box (RRP £4.99).
Tesco has reportedly secured an exclusivity agreement for 2018 to stock Truffles in a large 336g gift box (RRP of £7.49.)