Bare Snacks introduces new Strawberry Banana Chips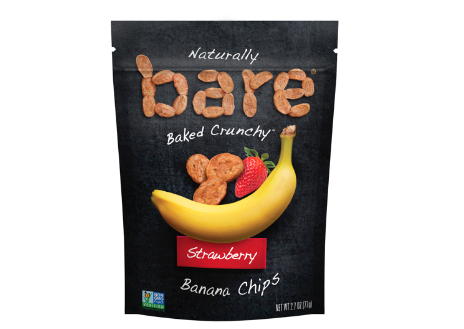 Bare Snacks has announced the launch of its new Strawberry Banana Chips. The new snack will join the brand's existing profile of oil-free fruit and veggie chips.
Crafted in small batches, the new flavour features slow-baked bananas, lightly dusted with crushed strawberries, with no added oil or sugar and nothing artificial, according to the brand.
"Strawberry banana is a classic flavour combination, and we wanted to make it snackable," says Santosh Padki, chief executive officer at Bare Snacks.
"What's exciting about this new snack is we're combining the naturally sweet taste of fresh bananas and strawberries in a satisfying form that has a unique crunch factor. Unlike other banana chips, our chips are baked, not fried, without any added oil. Plus, they're made with just two ingredients – strawberries and bananas – that's it."
Bare Strawberry Banana Chips can be eaten straight from the resealable bag and also make for a fruity parfait or oatmeal topper, yogurt dipper or crunchy snack wrap addition.
Like Bare's existing banana chip flavours, including Simply and Cinnamon, Bare Strawberry Banana Chips are Non-GMO Project Verified, gluten-free, fat-free and a rich in fibre.
Bare Strawberry Banana Chips retail for $4.29 per 2.7-ounce bag and are rolling out on grocery stores shelves nationwide now, including Kroger, Giant Food, Stop & Shop, HEB, Safeway and Vons, as well as online on Amazon.