Rebrand and new flatbread range for Thomas Fudge's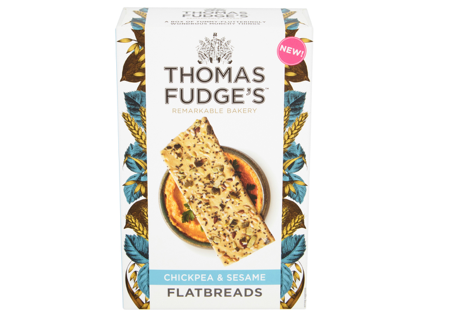 Thomas Fudge's, famous for its premium range of Florentines, has announced a full packaging rebrand.
The rebrand will see a new logo and updated illustrations feature on new look packs with bold and colourful graphics. The artisan baker, which makes sweet and savoury biscuits, is also entering the flatbread category with the launch of three new flavours, designed to pair with dips such as hummus.
Florentine fans and lovers of indulgent adult snacks will be the key audience for the rebrand. Each pack will retain a logo and emblem, paying homage to Thomas Fudge and feature the caption "Go forth and indulge".
The redesign also includes a new collection of product photography which will feature on the Thomas Fudge's website and social media platforms, showcasing the products and their usage.
Thomas Fudge's has also announced a range of new flatbreads. The variants include Cheddar & Shallot which matches with creamy dips, Chickpea & Sesame which can be enjoyed with hummus and Tomato & Red Chilli which can be paired with salsas and guacamole.
Simon Tovey, commercial director at Thomas Fudge's, says, "Our new look moves the brand on to become more single minded, bolder and more confident.
"We have maintained our distinctiveness while improving on-shelf stand out and we are confident that our brand makeover will go a long way to delivering a strong point of difference, attracting new consumers and simplifying the shopper journey."
"The flatbreads are a versatile product ideal for informal lunches, buffets and impromptu gatherings. We have identified the opportunity to launch premium flavoured flatbreads, specifically developed to match with specific dips."