Big Bear launches new Poppets snack packs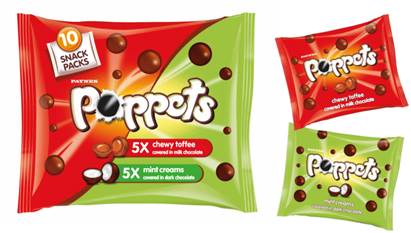 Big Bear Confectionery, owner of the Poppets brand, is launching a new format in time for Halloween.
In response to the growing demand for NPD and sharing bags, this September will see the launch of a new Poppets Snack Pack multipack – ten individual 21g bags containing two of the nation's favourite Poppets flavours: Chewy Toffee covered in milk chocolate and Mint Creams covered in dark chocolate.
The new, smaller pack sizes are said to be ideal for trick or treaters or a big night in around Halloween. The multipack will sit alongside the existing range of gift boxes and the 40g boxes and be widely stocked across supermarkets, discounters and independent retailers.
Andrew Ovens, marketing manager for Big Bear Confectionery, comments, "We know Poppets is particularly popular with under 15s and the new Poppets Snack Packs are designed to offer parents a portion controlled snacking solution. One of the other big sales drivers is the growing demand for sharing formats.
"With research by Kantar revealing that in the past four years, sharing occasions with five or more people consuming chocolate have risen 27%, we're expecting the multipack to be popular among consumers over the Halloween season and beyond the winter months."