Burts Chips unveils the taste of Bourbon with new Jim Beam Original BBQ crisps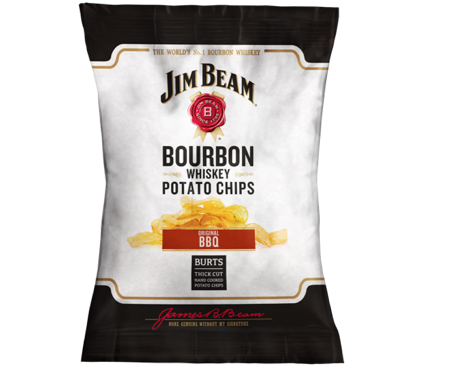 Burts Chips is launching another flavour in its series of partnerships with beverage companies – this time with Bourbon brand Jim Beam.
Jim Beam Original BBQ flavour crisps is the result of the Burts Chips and Jim Beam teams working in partnership to perfect the combination of the authentic flavour of Jim Beam Kentucky Straight Bourbon with sweet, smoky BBQ flavours.
Like all Burts' snacks, the new crisps are hand cooked in small batches, seasoned with natural flavours, are gluten-free and contain no MSG, hydrogenated fat, artificial flavourings or colourings.
Jim Beam Original BBQ joins the Burts Chips portfolio which includes: Guinness and Guinness Rich Chilli, Hobgoblin Spit Roast Steak crisps – a partnership with the Wychwood Brewery and Burts Levi Roots Reggae Reggae Groove Cut Crisps.
Burts Chips' sales and marketing director Simon Knight, says, "Jim Beam Original BBQ crisps once more underlines the fact that Burts Chips is the UK leader in flavour innovation and taste combinations. Our unique USP is one of the key factors in the Burts Chips brand growing by 2% year-on-year to be worth £8m – making us one of the fastest growing bagged snacks brands in the UK.
"Retailers should also note that BBQ is a universally appealing flavour and always ranks highly in consumer flavour polls. This unique spin on a traditional favourite offers retailers, pubs, bars and cafes the perfect opportunity to differentiate their bagged snacks offer as we approach the busy out-of-home selling season."
The crisps come in 40g single-serve bags (RRP: 79p-99p) and 120g sharing bags (RRP: £1.79 – £1.99), launching into the retail and hospitality trade this summer via Burtscrisps.com and selected wholesalers.
The new flavour crisps will also feature in Aldi as limited edition for a two-month period which started in early June.