Bare Snacks unveils new Baked Crunchy Veggie Chips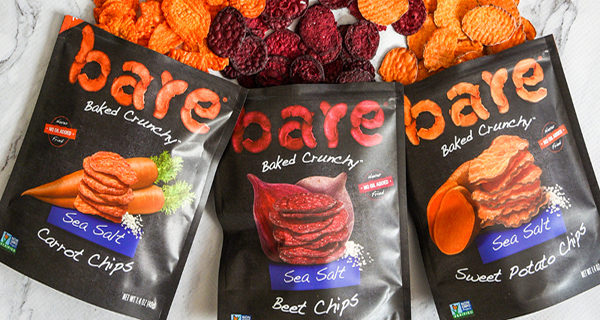 Bare Snacks has revealed its new line of crunchy veggie chips.
Bare's new veggie chips are made with real vegetables that are baked; they do not contain oil or preservatives, the brand says. All varieties are a good source of fibre and potassium, Non-GMO Project Verified, gluten-free, dairy-free, fat-free and vegan.
The new veggie chips are an easy way for anyone to get more whole vegetables into their diet every day, according to the producer. Available in six savoury varieties, bare Beet, Carrot and Sweet Potato Chips are rolling out now at select retailers in the US.
Santosh Padki, chief executive officer at Bare Snacks, says, "Our new beet, carrot and sweet potato chips are a fresh take on veggie chips that everyone can root for. Unlike other veggie snacks that are often fried or made with starchy powders and oil, our new veggie chips are a truly clean option made with real vegetables and nothing extra.
"We've discovered a new way to make veggies snack-able and are excited for everyone to try our crunchy and delicious chips."
Bare's new veggie chip varieties have a suggested retail price of USD$4.29 per bag and are available at grocery stores across the nation, as well as online on Amazon and select Target stores in July.
The veggie chips join the brand's existing portfolio of Snacks Gone Simple, including bare Apple Chips, Banana Chips, Coconut Chips and Chia Coconut Bites.