Asda welcomes Unicorn Smarties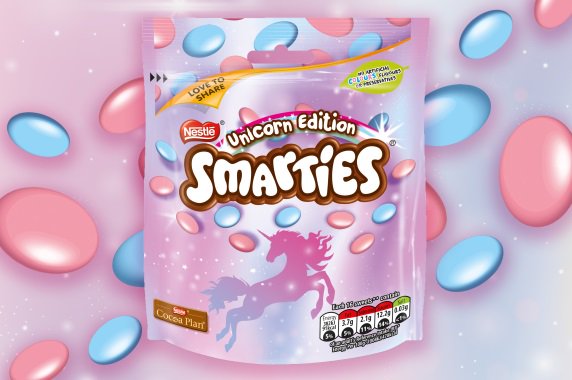 In response to the increasing popularity of unicorn-themed food and drink products, Nestlé UK has announced the launch of its new special edition Unicorn Smarties.
The sharing bags are a mix of pink and blue Smarties in a pastel-coloured sharing bag sporting a unicorn design.
Stephanie Scales, brand manager for Smarties, Nestlé UK, says, "We are really excited to launch Unicorn Smarties sharing bags which are right on trend for all of those completely under the spell of the unicorn craze to share with their families and friends.
"Smarties is all about the colour and, if you are a fan of the colourful world of unicorns, then these are your perfectly Instagramable summer accessory for everything from road-trips to creative baking.
"And even if unicorns aren't really your thing then that's ok too because it's still the same delicious taste of Smarties once you open the bag."
The introduction of these limited edition Smarties follows wildly popular launches for orange flavoured Smarties in a variety of special formats beginning with giant tubes last Christmas and now available in sharing bags.
Unicorn Smarties are exclusive to Asda stores across the country and will be available from Thursday 14 June.