Häagen-Dazs unveils its Peanut Butter Crunch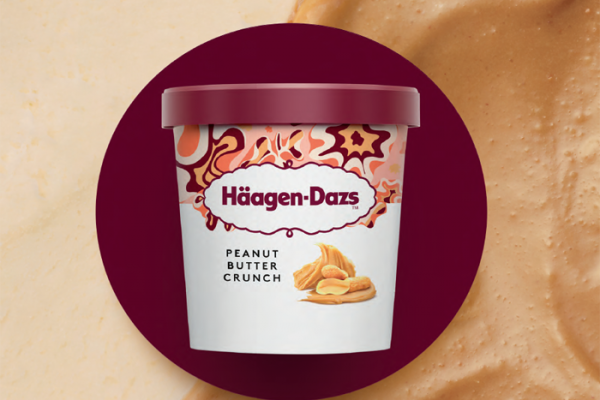 In response to an increasing consumer demand for peanut butter products, Häagen-Dazs has launched a new Peanut Butter Crunch ice cream.
The new product, available in pint and stick formats, combines peanut ice cream with a thick swirl of peanut butter sauce sourced from the US, as well as salted and caramelised pieces of Argentinian peanuts.
Arjoon Bose, UK and Northern Europe marketing head for Häagen-Dazs, says, "We know flavour and format innovation is key to maintaining this momentum and exciting Gen Y shoppers. Peanut Butter is without a doubt a huge global trend and we've spent a lot of time at our factory perfecting the ingredients and flavours to deliver an exceptional tasting addition to the range."
Additionally, Häagen-Dazs has also expanded its Minicups range which saw a limited launch in 2017. Each of the three collections Caramel, Vanilla and Chocolate come in portions of four different minicups in the same flavour camp. The range is available in all major grocery accounts across the UK.
Bose says, "Our Mini-cup Collections range has already proved extremely popular and currently accounts for 32% of total market Mini-cup sales. As such, the format's national rollout is really significant for the brand to continue tapping into consumers looking for portioned treats to enjoy at home."
In 2017, Häagen-Dazs launched its sticks multipacks and was 6th biggest FMCG innovation in the UK in grocery. This year, building on the "perfect portions" platform Häagen-Dazs also launched its new format concept, Mini ice cream bars. Currently available in Sainsburys, in packs of five 40ml bars in two combination packs: Salted Caramel & Peanut Butter or Salted Caramel & Vanilla Caramel Almond. The new smaller stick bar format is designed to offer consumers easy portion control on the go.
Häagen-Dazs Peanut Butter 460ml pints and sticks are available in all major retailers; the pints at an RRP £4.20 and the stick bars at an RRP £3.99.
Häagen-Dazs Mini Stick Bars (5 x 40ml – 3 x Salted Caramel & 2 x Peanut Butter or 3 x Salted Caramel & 2 x Vanilla Caramel Almond) are available exclusively in Sainsbury's at an RRP £3.99.