JellySqueeze now available in Asda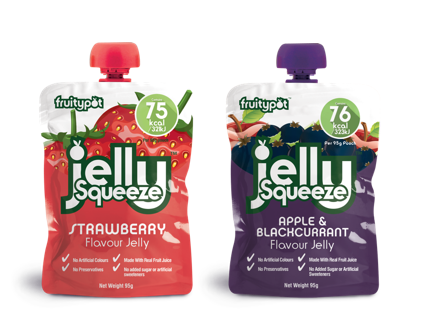 Fruit-based desserts and snacks specialist Fruitypot has announced that its jelly snacks product, JellySqueeze, is now available in over 400 Asda stores.
The range, which has no added sugar, comes in handy resealable pouches in two child-friendly flavours: strawberry and apple & blackcurrant.
Great for health-conscious mums and children with busy lifestyles, JellySqueeze is made with real fruit juice, is free from preservatives and artificial colours – plus it is vegan, lactose-free and gluten-free. A 'better for you' grab and go option for children of all ages, even those who suffer from allergies, the brand says.
At under 80 calories, JellySqueeze fits in with the NHS' new 'Change 4 Life'  campaign. The latest advice encourages parents to limit children to two snacks at 100 calories each per day. JellySqueeze is available in 95g pouches.
Sarah Booth, managing director, Fruitypot, explains, "We are delighted that Asda are expanding their ambient desserts and snacking range to include JellySqueeze. Our range of products have been developed to meet consumers demands for health and convenience on the go."