Fudge Kitchen reveals Royal Wedding-inspired product range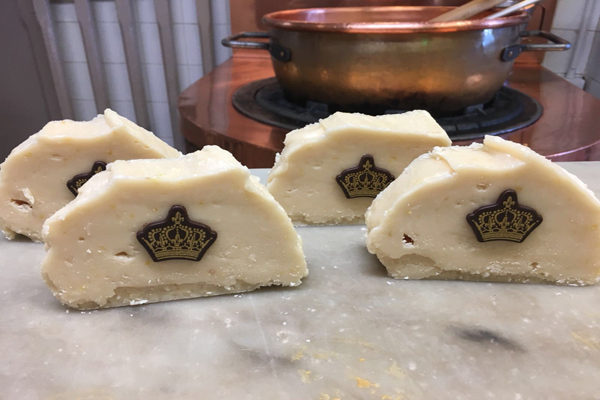 British confectioner Fudge Kitchen has created a limited edition Lemon & Elderflower whipping cream fudge to celebrate the upcoming Royal Wedding on 19 May 2018.
Inspired by Claire Ptak's Lemon & Elderberry wedding cake, chosen by Prince Harry and Meghan Markle, the new fudge variant is said to combine fresh whipping cream, lemon zest and natural elderflower; for a citrus zing with the sweetness of elderflower. The fudge is regally decorated with edible glitter and chocolate crowns.
Like all Fudge Kitchen 'slab' fudge, it is hand made in full view of visitors, using the traditional technique of "slabbing and loafing", where warm flourishes of fudge are turned on a marble counter as the fudge cools, breaking up granulation and creating the creamiest, smoothest fudge available.
The Lemon & Elderflower slab will be available from Fudge Kitchen at 175g per slice for a RRP of £5.
Additionally, a handmade four slice Royal Wedding Collection gift box will also be available to mark the royal nuptials. The gift box will be packed with four slices of Royal Chocolate Fudge Cake, Maple & Walnut, Lemon & Elderflower and Eton Mess.
The approximate weight of the giftbox is 700g and it will be available to purchase at a RRP of £17 (plus P&P)
Both product ranges will be available from 4 May until 20 July 2018.