New cacao peanut vegan balls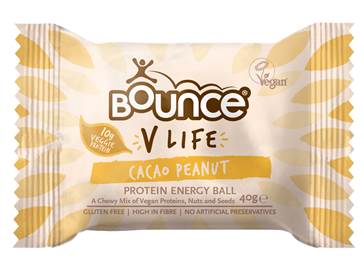 Bounce Energy Balls is introducing a new flavour to its Vegan Society accredited, V Life plant protein range.
Hitting shelves in May, Cacao Peanut is a new addition to the existing range of nutritionally-balance Bounce balls.
A chewy, nutty mix of crunchy peanut butter and rich, dark cacao nibs, Cacao Peanut is the perfect swap for that lunchtime chocolate craving as its natural sweetness is derived from its ingredients rather than refined sugars, the brand says.
V Life Cacao Peanut contains 10g pea protein, and is high in fibre and gluten-free.
The product is available from Wholefoods Market, Planet Organic, Holland & Barrett and all good health food stores from 1 May; RRP £1.79 – £1.99.