Ryvita reveals re-launch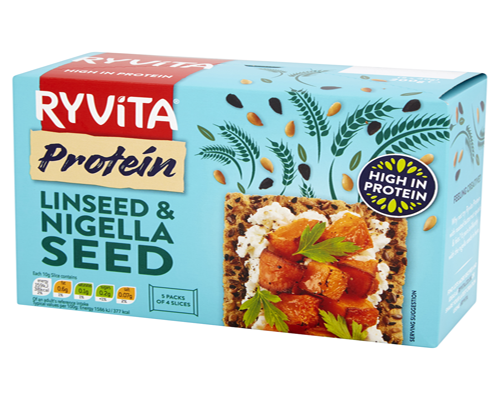 Healthy snacks brand Ryvita is kicking off 2018 with a new campaign as well as new product launches.
On a mission to help women enjoy positive healthy living every day, Ryvita have teamed up with CRUK and fitness celebrity Davina McCall.
The £1.9 million campaign will run throughout 2018 comprised of digital, social and in-store activity fronted by McCall alongside experiential at Cancer Research Events across the UK.
As part of this, Ryvita will be supporting over 5,000 women to get active by sponsoring them their first £5 when they sign up to a CRUK event.
Kyrsten Halley, head of brand at Ryvita, says, "Ryvita is incredibly proud and excited to be working with Cancer Research UK & Davina. We all share the common goal of inspiring women to get more good into their lives and get active, and are thrilled to be working as part of such a great team.
"We are dedicated to making a difference through raising funds for CRUK to help beat cancer sooner and we can't wait to see all the smiling faces at the finish lines!"
Following Ryvita's launch of Rye Cakes, Ryvita says that it will continue to create nutritious products with more inspiring product launches arriving in retailers this year.
The first to be revealed are Ryvita Bakes and Ryvita Protein. A first for savoury biscuits, Ryvita Protein is the only high in protein product in the category.
Research commissioned by Ryvita discovered that protein is one of the top health attributes that savoury biscuits shoppers are looking for, but despite this being a huge trend, there was previously nothing in the category to satisfy this need.
Ryvita Protein used pea protein to help create two new high in protein flavours – Red Quinoa & Sesame and Linseeds & Nigella Seeds.
Ryvita Bakes have been created by Ryvita following research from Kantar which revealed that the second biggest consumer need to enable healthier eating is 'more fruit and veg'. Available in two flavours: Beetroot & Sweet Onion and Tomato & Red Pepper, Ryvita Bakes are baked with real vegetable pieces, alongside being high in fibre and low in saturated fat.
In addition to this Ryvita is also launching a new look for its flagship Crispbread range to help communicate the health benefits of its product. All of the flavours in the Ryvita Crispbread range are full of Rye Goodness from Rye Fibre. The new design now highlights these benefits in addition to communicating the brand's vitality. Ryvita's new website will also focus on inspiring consumers with great tasting recipes using the entire range.
Halley adds, "2018 is going to be great for Ryvita, with our biggest and most diverse campaign to date; we couldn't be prouder to be working with our incredible, new partners in Davina and Cancer Research UK.
"The relaunch is a great opportunity for retailers looking to unlock the healthy snacking category, using Ryvita's strong health credentials and encouraging people to 'Get More Good In' to their lives.
"The campaign is looking to inspire people in lots of ways through innovative & nutritious new products plus engaging and inspiring comms showing how we believe healthy living really can be enjoyable (rather than diets!) and having fun being active through our events series."