New Bounty and Maltesers ice cream multipacks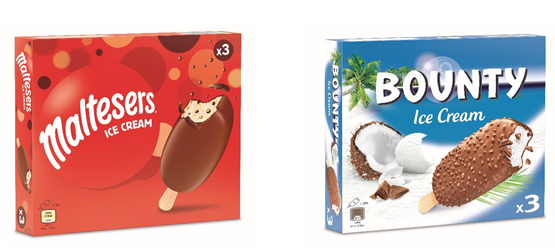 Mars Chocolate Drinks and Treats has expanded its sharing ice cream range with two new products: Bounty Ice Cream Multipack and Maltesers Ice Cream Multipack.
The announcement comes as the UK ice cream market tops £1 billion, with value up 4% year on year. Wrapped handheld ice creams continue to dominate the category as the largest segment worth £588 million, up 3.9% year on year.
Bounty Ice Cream multipack sees the UK launch of Bounty ice cream on a stick in a three pack. Featuring a coconut flavour ice cream coated in a dairy chocolate layer and infused with coconut flakes, this launch capitalises on the consumer trend towards buying coconut products.
Also joining the line-up is the Maltesers Ice Cream Multipack. This sharing pack includes three individually wrapped handheld ice creams, each containing a blend of malty ice cream with Maltesers mini pips, coated in a chocolate layer.
Phil Shaw, head of sales at Mars Chocolate Drinks and Treats, says, "The introduction of two new multipacks marks an exciting start to the year, bringing eye-catching brands and new sharing options to the freezer.
"By fusing some of the nation's best-loved confectionery brands with the category's leading segment, wrapped handheld, we're sure that these new skus will soon become retailer and consumer favourites!"
Maltesers Ice Cream Multipack and Bounty Ice Cream Multipack are available now at all major retail outlets across the UK (RRP £2.75).