Extra delivers Peppermint and Polar Ice Chewy Mints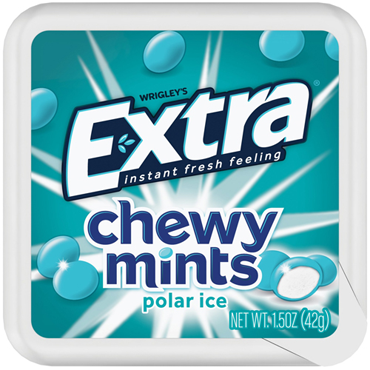 Chewing gum brand Extra has announced the launch of its latest product, Extra Chewy Mints.
Made up of two layers consisting of a thin crispy outer shell and a chewy core, Extra Chewy Mints will be available in Peppermint and Polar Ice flavours.
Steve Johnson, vice president, Gum & Mints, Mars Wrigley Confectionery US, says, "Mars Wrigley Confectionery has a successful history in mints, with beloved brands like Altoids and Life Savers already in our portfolio.
"With new Extra Chewy Mints, we'll be able to have a larger presence in the category and invite everyone to enjoy Extra in a gum or a mint form."
The launch of Extra Chewy Mints is supported by a national print and digital advertising campaign called Instant Connections. The new creative shows two people sharing a mint that sparks an instant connection.
"The Extra Brand is all about how sharing something small – like a stick of gum – can create a meaningful connection," adds Johnson. "With Extra Chewy Mints, we hope to bring even more people together when sharing something as simple and delicious as a mint."
The product will be available nationwide in 1.5oz durable, plastic packs and 7.5oz stand-up bags.