Jelly Belly unleashes animal-shaped gummies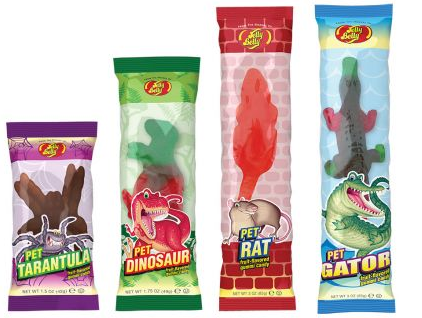 Jelly Belly Candy Company has announced the debut of its new Jelly Belly Gummi Pet Line: a collection of large, novelty gummies in animal shapes.
The range features a 49g Gummi Pet Dinosaur (RRP: £2.70), a 85g Gummi Pet Rat (RRP: £4), 85g Gummi Pet Gator (RRP: £4) and a 42g Gummi Pet Tarantula (RRP: £2.70) in a variety of fruit flavours.
Made with kosher gelatine, the fruit-flavoured gummi sweets are a playful treat to share or give as a gift.
Gummi Pet Dinosaur and Gummi Pet Gator are both available in cherry/lime, lime/orange or blueberry/lime flavours. Gummi Pet Tarantula comes in cherry, cherry/lime or grape, and Gummi Pet Rat is available in cherry, grape or orange.
Each Gummi Pet in the collection comes with a card filled with facts about the animal behind its inspiration.