McVitie's campaign brings people together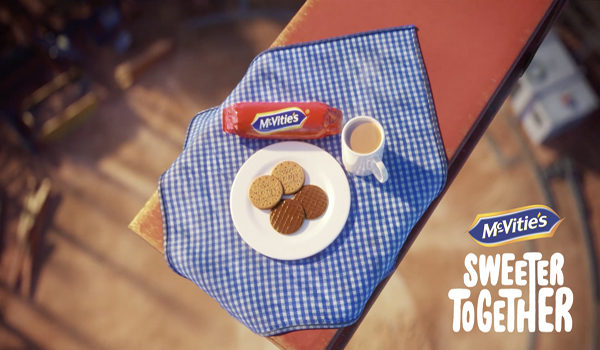 McVitie's has announced the launch of its new £9.7 million Masterbrand campaign, 'Sweeter Together'. The campaign explores the importance of real human connections and shows how the simple act of sharing a biscuit has the power to bring people together.
The 60-second, animated advert titled 'Crane', shows a tower crane operator going about his work dozens of metres above the ground. He is convinced that everyone's forgotten about him when he gets a surprise – the steel beam he has lifted has been loaded with a cup of tea and some McVitie's biscuits. He looks down and sees his colleagues waving and smiling at him and his mood instantly lifts.
The advert ends with a simple message: "Sometimes the little things are actually the really big things".
Sarah Heynen, vice president of marketing at pladis UK & Ireland, the global snacking company behind McVitie's, says, "We know that despite being more connected than ever before digitally, we're drifting further away from those real human connections that can mean the most.
"That's why we're so excited about our new 'Sweeter Together' campaign; because it has a very real message about the importance of togetherness. And we truly believe McVitie's enables these moments every day."
A second advert, 'Brows', will air later this year as part of the Sweeter Together campaign, telling the tale of a woman feeling nervous during her first day in a new job. Her sense of isolation disappears, however, when a new colleague breaks the ice with a joke and a packet of McVitie's Jaffa Cakes is shared around.
As part of the campaign, a major in-store promotion will be running across all McVitie's Biscuits. Consumers will have the opportunity to win prizes including family holidays, weekend breaks and family days out. To enter, shoppers must buy any packet of McVitie's biscuits and text 'SWEETERTOGETHER' to 66644 to find out if they have won.
The campaign has also been extended to convenience retailers for a chance to win £1000. First retailers can request a Win Big Together POS kit from betterbiscuits@pladisglobal.com.
They must then build a high-impact display that makes it easy for shoppers to buy from and send their images back with a chance of winning.