Easter eggs for grown-ups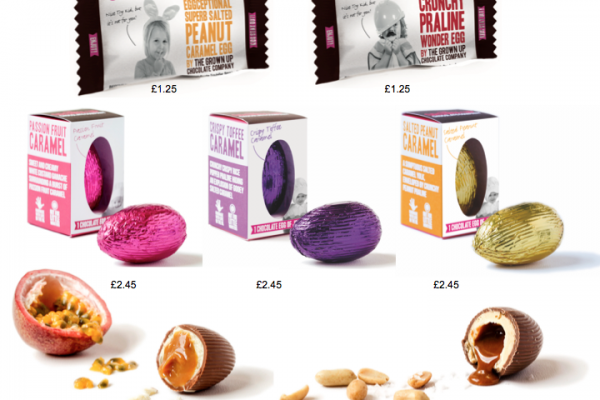 The Grown Up Chocolate Company has announced its collection of handmade chocolate eggs for Easter 2018.
According to the brand, the 40g eggs contain double the amount of cocoa solids compared to the average chocolate bar.
Flavours include:
Eggceptional Superb Salted Peanut Caramel Egg (RRP £1.25) – Peanut praline enveloping a caramel centre encased in a milk chocolate egg.
Crunchy Praline Wonder Egg (RRP £1.25) – Caramelised wafer covered in praline with a caramel centre encased in milk chocolate.
Passion Fruit Caramel (RRP £2.45) – Fruit flavoured caramel truffle enveloped with a white custard ganache in a milk chocolate shell.
Crispy Toffee Caramel (RRP £2.45) – Crunchy crispy rice popper praline with a salted caramel centre.
Salted Peanut Caramel (RRP £2.45) – A salted caramel yolk enveloped by peanut praline.
The products are also available as pack of three flavours gift box for £4.95.