Nestlé announces new indulgent KitKat chocolates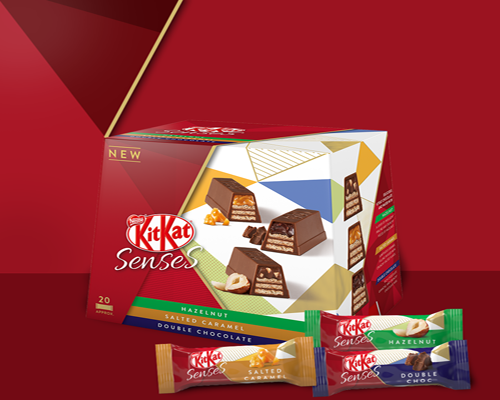 Nestlé has revealed the imminent UK-debut of KitKat Senses, its newest indulgent chocolate product.
Available in three different flavours, hazelnut, double chocolate and salted caramel, KitKat Senses is a box of individually-wrapped, bite-size chocolates.
The chocolates consist of a combination of KitKat chocolate and wafer and either a layer of praline and crunchy pieces of hazelnut (hazelnut), salted caramel filling infused with crunchy caramel flakes (salted caramel) or chocolate ganache and crunchy cocoa nibs (double chocolate).
The launch of a more indulgent KitKat product is a big innovation for Nestlé confectionery in 2018 and follows the introduction of premium brand Les Recettes De L'Atelier last month.
Alex Gonnella, marketing director for Nestlé's UK confectionery business, says, "We know our consumers want something special when they buy confectionery and it's exciting to bring in these new indulgent KitKat chocolates.
"KitKat Senses is a more premium format that gives people the opportunity to enjoy their favourite KitKat in a different way, it's ideal for sharing with friends and family, looks great on the table and makes a perfect gift.
"As with the introduction of Les Recettes de L'Atelier this is another example of us developing a new, innovative product that gives consumers a more luxury option. I'm sure it will be a big hit."