Major revamp for Bon Bon Buddies series ahead of US and Chinese launch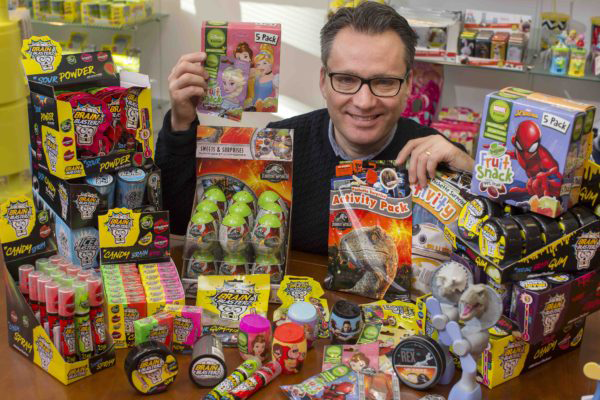 Welsh confectionery manufacturer Bon Bon Buddies used ISM to unveil its refreshed own-brand range of mega sour sweets, Brain Blasterz, ahead of the product's first-ever launch in the US and Chinese markets later this year.
Already a supplier in the segment to the Middle East and Nordics, the company's revamped series will appear on shelves in retailers and independents across the new territories from this month.
Ahead of the launch, the company said it refreshed its sour candy line to reflect the evolving preferences of its core audience (8-12 year olds) and to appeal to its new American and Chinese audiences, by expanding the range.
It has designed bold new packaging and introduced new flavours, such as salty salmiakki, cola and tropical, while retaining its original apple, watermelon, lemon and berry tastes. The new Brain Blasterz range comprises 11 products, including Brain Bitz, Oozing Brain Gum, a 3D lolly and spray candy.
Since launching in 2011, the Brain Blasterz range has gone from strength-to-strength, amassing huge followings across 20 countries and seeing a 33% rise in sales during the company's 2015-16 financial year. In the same year, Bon Bon Buddies opened its first Chinese headquarters in Hong Kong, which opened many doors into a competitive marketplace for the confectioner. Bon Bon Buddies aims to grow its annual Brain Blasterz sales to £10m across all territories by 2020.
At ISM, Bon Bon Buddies also launched a confection line inspired by the upcoming global theatrical release of Universal Studio's Jurassic World: Fallen Kingdom in June 2018. Comprising seven sweet treats including a candy excavation kit, surprise eggs and dinosaur gummies in blackcurrant, strawberry, orange and lime flavours, the range will be available in the UK, France, Benelux, central and Eastern Europe, the Nordics, Poland, Germany, Austria, Switzerland and the Middle East. The confectionery will be available to purchase at various stockists across the UK from May.
Bon Bon Buddies has also launched the rebrand of Fruitickles at ISM. Seen for the first time last year, Fruitickles is a fruity and healthier alternative to traditional confectionery, exclusively designed and produced by the Welsh confectioner for Disney's new healthy living initiative, Disney Kitchen.
Bon Bon Buddies is the only British manufacturer and one of only two European manufacturers to partner with Disney to bring the alternative confectionery to market, which will hit the shelves across the European, Middle Eastern and African (EMEA) region from September.
The character-branded range, which comprises five products made of 99% fruit in mixed strawberry, orange and blackcurrant flavours, will be available in singular consumption packs, multipack boxes, surprise bags (large and small sizes) and surprise capsules.
Fruitickles is a portion-controlled and gluten-free product with no added sugar, no artificial flavours or colourings and is suitable for vegetarians.
Justin Thomas, managing director of Bon Bon Buddies, said: "Our teams have worked tirelessly over the past 12 months to develop and update these three confectionery lines and we're very excited to finally be showcasing our hard work to ISM delegates.
"Fun and creativity are elements not only championed by Disney and Universal but are also engrained in our corporate DNA, which has helped us build strong relationships with both brands over the years. We were extremely pleased to secure both of the exclusive licensing contracts to help bring their new confectionery to life across multiple international markets and feel this is testament to the position we've built as Europe's leading character and branded confectioner."