Goupie introduces sharing variation for fan-favourite flavour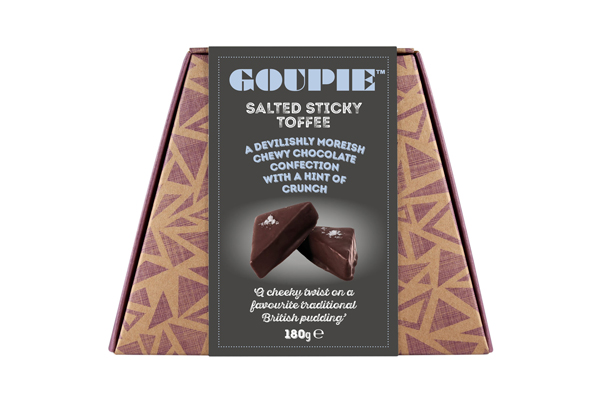 Artisan confectionery brand Goupie has revealed that it will be launching its Salted Sticky Toffee product in a 180g sharing size format.
Grace Simpson, brand manager, says, "Salted Sticky Toffee has been a firm favourite ever since its launch in 2017. It seemed only natural that we launched it in the 180g sharing boxes. Especially since so many people have been asking for it!"
According to the brand, Salted Sticky Toffee Goupie is gluten-free and suitable for vegetarians.
Janet Simpson, co-founder, adds, "As the name suggests, Salted Sticky Toffee was designed as a twist on the classic British dessert, Sticky Toffee Pudding. We combined this with the world-wide love of salted caramel to create a flavour which we believe is unique but accessible."
Goupie paired up with Maldon Sea Salt for this flavour, Simpson comments, "There is no doubt that salted confectionery still has a huge pull on the consumer, and the fact that it's also gluten-free, dairy-free and vegan friendly is just the icing on the cake. We have no doubt that the 180g sharing boxes will be just as popular as their Mini counterparts."
Goupie is available in 17 flavours online and from various specialist food retailers.