Tyrrells reveals NatWest 6 Nations crisp flavour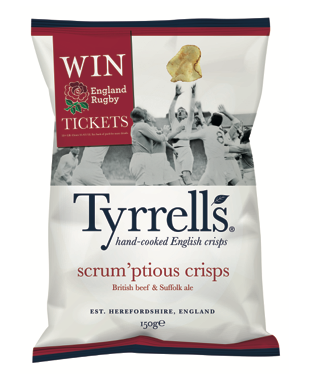 British hand-cooked crisp brand Tyrrells has added to its range with the launch of the new Scrum'ptious British beef & Suffolk ale crisps – just in time to mark the start of the NatWest 6 Nations Championship.
The latest offering celebrates Tyrrells's status as the Official Crisp of England Rugby, and to mark the partnership, each pack of Scrum'ptious crisps contains a unique code that gives shoppers the chance to win one of 20 pairs of England Rugby tickets.
Adam Draper, marketing director at Amplify Snack Brands UK, says, "We're proud to be the Official Crisp of England Rugby and we wanted to create a new, innovative flavour that celebrates our partnership with the RFU.
"Scrum'ptious crisps are not only full of flavour, but they bring to life our tongue-in- cheek humour and incorporate our signature style by using old rugby images on pack that bring concept to life.
"British beef & Suffolk ale is a truly delicious addition to our range, and is perfect for friends and families to share while watching the NatWest 6 Nations."
The new flavour is available to purchase from Sainsbury's, Waitrose, Coop, Booths and other selected local stores.
The Scrum'ptious crisps are a WIGIG line, so will only be available for a limited time, in February and March 2018.