Kind unveils protein bar range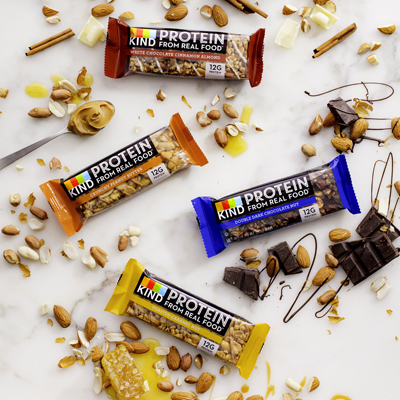 Kind Healthy Snacks has entered the protein bar category with the release of its Protein From Real Food bars.
According to the brand, the new product line, which is said to be made from real food, delivers 12 grams of protein and does not contain any genetically engineered ingredients.
Daniel Lubetzky, Kind's founder & CEO, says, "At Kind, we're always striving to challenge conventional wisdom and eliminate false compromises. We tried to think differently about what we would want in a protein bar.
"We discovered what was missing was a protein bar that tasted delicious, and delivered protein from premium, whole ingredients that we can recognise and feel good about putting in our body."
Stephanie Perruzza, registered dietitian and health & wellness specialist at Kind, adds, "As a brand committed to empowering people to make healthy eating decisions, we saw this as an opportunity to elevate the current market through a protein bar that meets our high nutritional standards.
"Emphasising a snack that delivers on taste, but also one that provides protein predominantly from nuts allows us to differentiate ourselves from the current offerings."
In an effort to demonstrate that real food tastes better, Kind has launched an online taste-comparison – with a twist. The first 10,000 participants that opt-in on the website will receive a first taste of Kind Protein bars, and will also have the chance to compare Kind Protein to one of the largest protein bars on the market.
"We're so certain that Kind Protein wins on taste that we're inviting people who are fans of competitor products to not only receive a bar of their choice, but also a free sample of ours," says Drew Nannis, vice president of integrated communications at Kind. "We know a bar with a majority of the protein coming from nuts tastes great; we're willing to do just about anything to share that with as many people as possible."
Kind Protein is available online and at retailers across the US at a RRP of $1.99 per bar.