Whitworths presents Bright Little Nuts campaign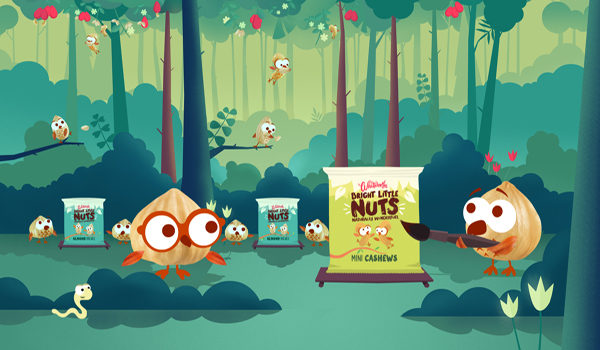 Whitworths has partnered with Aardman to create an advertising campaign for Bright Little Nuts – its nut snack targeted at children.
The 30-second advert, which is centred on the fantasy land of 'Nutville', tells the story of how The Nutwings collect and package Bright Little Nuts, delivering them to children across the world. The product launch and campaign is part of Whitworths' strategy to encourage healthier, natural choices among the young.
Phil Gowland, marketing director at Whitworths, says, "As a brand we're passionate about creating nutritious healthy snacks, and we've recognised that there is a gap in the market for a snacking product which is packed with good stuff that isn't boring."
Gowland adds, "We wanted to bring the on-pack characters to life. When we first launched the product, they didn't have a name, let alone a backstory, and we knew that partnering with such a prestigious animation studio would help us bring these characters to life and tell the story of Bright Little Nuts in a truly unique and fun way."
Bright Little Nuts will also be supporting Change4Life's campaign in January to help families choose healthier snacks and reduce their children's sugar intake.
Bright Little Nuts is a range of natural nut snacks for children aged five upwards. The three varieties contain vitamins, minerals, protein and fibre, and each 20g snack pack contains halved or mini nuts to help fill them up between meals.
The advert will form part of a bigger TV advertising campaign which launches later this year.